Turn information into inspiration!



We can't wait to help you reach your goals even faster with the latest Evolt 360 scanner, now available in your Crunch Club! To serve you best we require all Evolt 360 Scans to be booked prior and they will be performed by Crunch Staff only.
PLEASE NOTE THE FOLLOWING APPLIES FOR ALL EVOLT 360 SCANS
You must have a Scan or scan pack already purchased or applied to your membership to be able to book. 

Scans can only be purchased from Crunch Reception.

Scans can only be booked a maximum of 7 days in advance.

Please make sure you arrive 5 minutes early for your Scan. Due to the limited spots available, if you're more than 5 minutes late your session will be classified as a no show.

If you can't make your session, please cancel via reception or the app to avoid any no show penalties and so that other Crunchies can perspire to greatness as well!
how to book



There are 2 ways to book a scan; In Club and via the Crunch Australia App.

to book in club, simply visit crunch reception
TO BOOK A SCAN VIA THE CRUNCH AUSTRALIA APP

Download the Crunch Australia App
You can download the Crunch Australia Mobile App via Google Play Store and Apple App Store. Simply click on the links or search for "Crunch Australia" and install.
How to book via the Crunch Australia App

Once you've downloaded and installed the app, open the app and fill in your details (email & password) to login to your account. You'll then receive a message saying 'You're all set up!' Select the 'START NOW' button. You'll then be taken to your dashboard where you can book in your scan. Select the 'Book Your Classes' button.
Scroll through the available time slots & choose your desired day and time. Once you find the time slot you'd like, hit the '+' button to book your session. You'll then receive a notification asking you to confirm this time slot. Hit 'Confirm'. A message will appear saying 'Spot Reserved', hit the 'Ok, got it' button.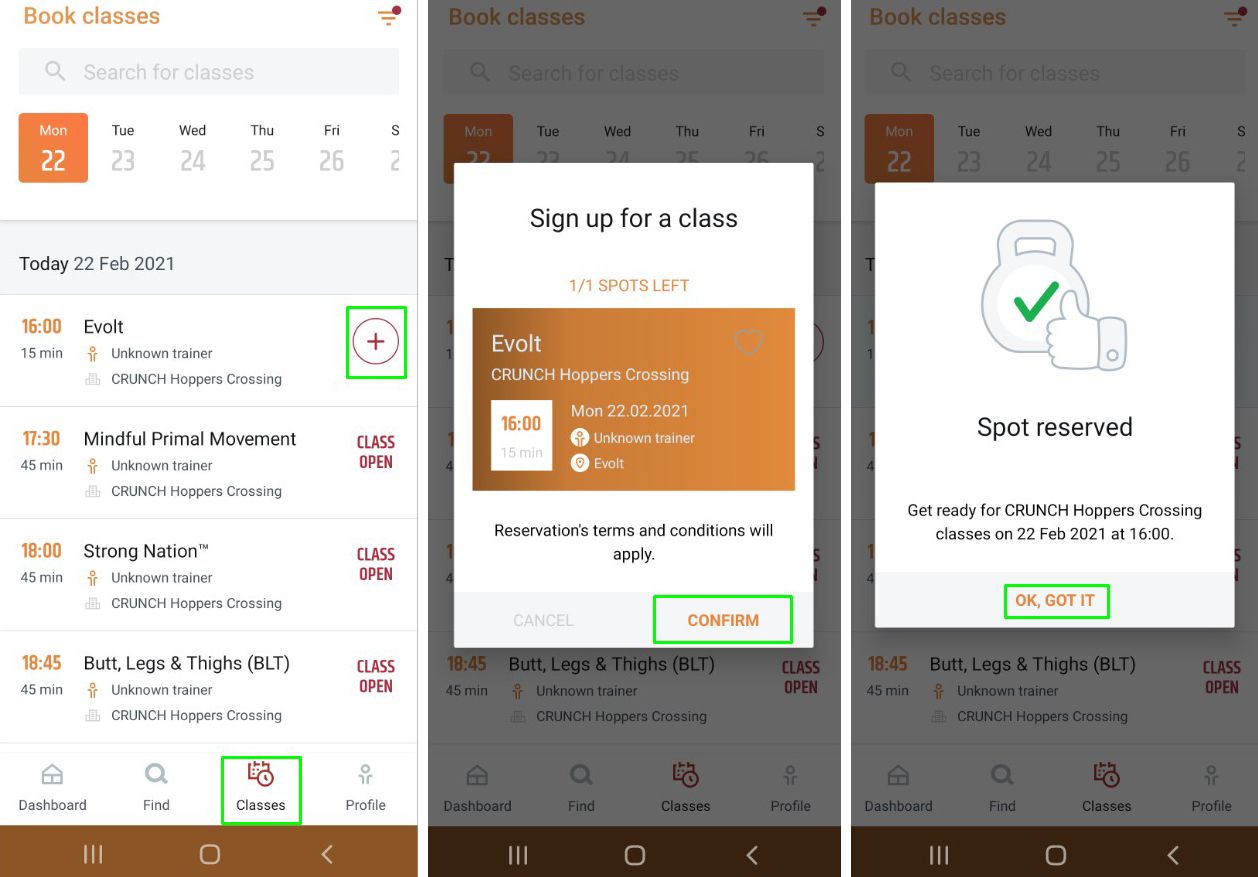 You'll then be asked if you'd like to set up a reminder before your booking. If you would like to do this, hit the 'OK' button & choose your desired time e.g. 1 hour before. Once you've done this, you're all set!!! You'll be able to view your upcoming Scan on the 'Dashboard' tab of your app.
How to cancel via the Crunch Australia App

Make sure you are on the 'Dashboard' tab. Here, you can view your upcoming bookings. Click on the booking you'd like to cancel. You'll be taken to the Class/ Session details page. You'll see a 'x' symbol next to your gym session. Hit the 'x' symbol if you would like to cancel this booking. Then, select the 'Yes, cancel' button. You'll then receive a notification saying 'Reservation Canceled' to confirm this cancellation, hit 'OK'.To be sure you've canceled this booking, go back to your dashboard page. This booking should have disappeared from your dashboard!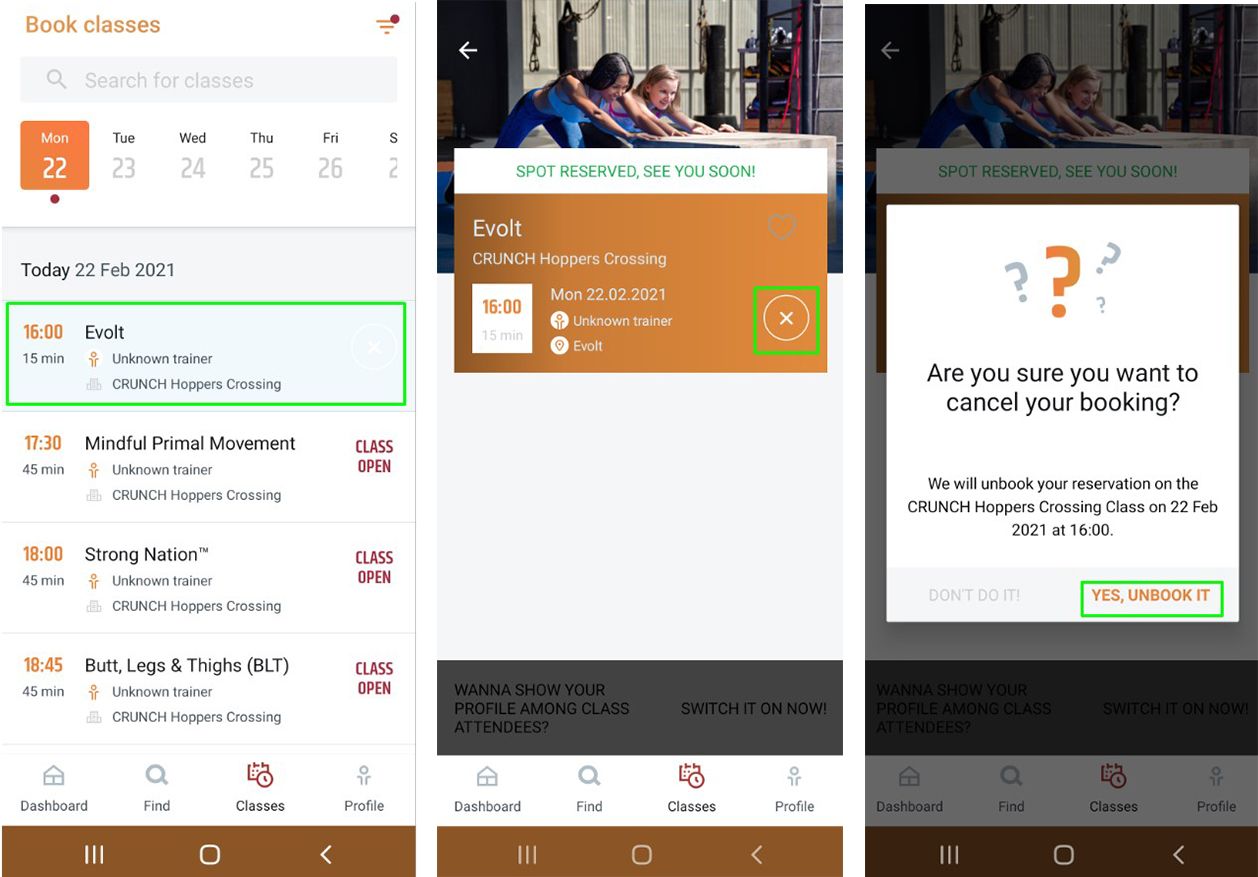 We can't wait to see you Crunchie and show you how awesome Evolt 360 is! If you have any problems, just let one of your Club Staff know - we're here to help!
LOVE.FITNESS.HAPPINESS
Your Crunch Team