The easy way to secure a spot in your favourite classes!
From May 1st 2023, all Crunch classes will require you to book your spot in a class.
We've made it quick and easy for you to reserve your place by using the Crunch Australia App (available to download on Google Play Store or Apple App Store) OR By logging in to your MemberPortal, where you will find all the latest class timetable information.
Note: Class booking will open 7 DAYS in advance and close 10mins before the scheduled class time. For both the Crunch Australia App and MemberPortal, you'll need your login and Password.
What's my login?
Your login is the email you used to enrol at Crunch. It is the email that appears on your Crunch Membership Agreement and the email you receive Crunch EDM communications from.
What's my password?
Your password was specified by you during your Crunch enrolment.  If you didn't specify a password when you enrolled, don't worry and just follow the "Forgot or don't have a password?" button.
How to book a session via Member Portal
Once you are in the Crunch Member Portal click the "Book" tab at the top

Classes will appear like a class timetable in Member Portal
When the class is available to be booked (maximum 24hrs in advance) the 'BOOK' button will appear under the timeslot

How to book a session via the Crunch Australia App
Download the Crunch Australia app via the app store. Once you're inside the app, fill in your details (email & password) to login to your account. You'll then receive a message saying 'You're all set up!' Select the 'START NOW' button. You'll then be taken to your dashboard where you can book in your gym session! Select the 'Book Your Classes' button. Here, you'll be able to view available gym session slots & show you which ones are fully booked.

Scroll through the available time slots & choose your desired Group Fitness Class.
Once you find the time slot you'd like, hit the '+' button to sign up for this session.

You'll then receive a notification asking you to confirm this time slot. Hit 'Confirm'.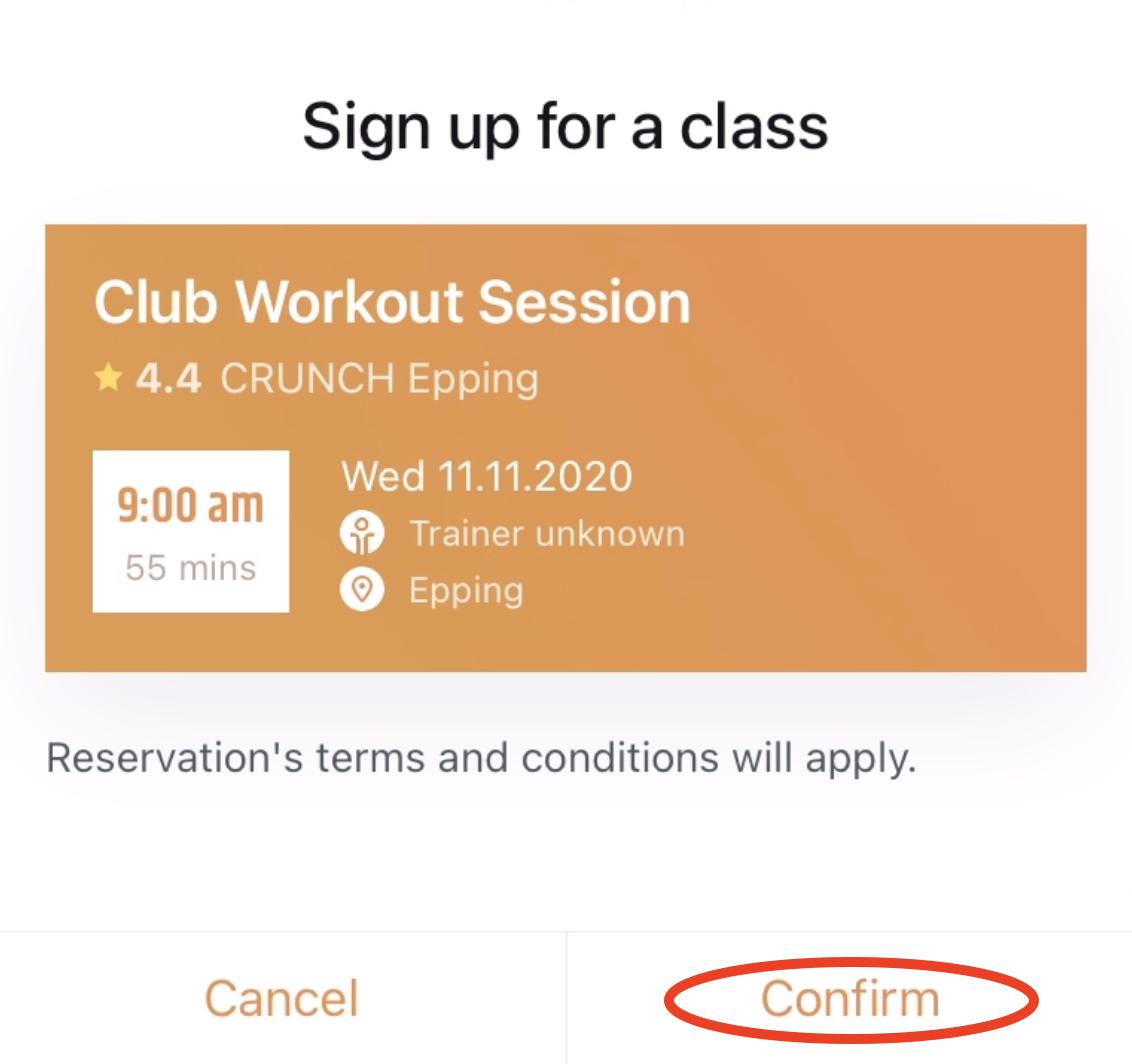 A message will appear saying 'Spot Reserved', hit the 'Ok, got it' button.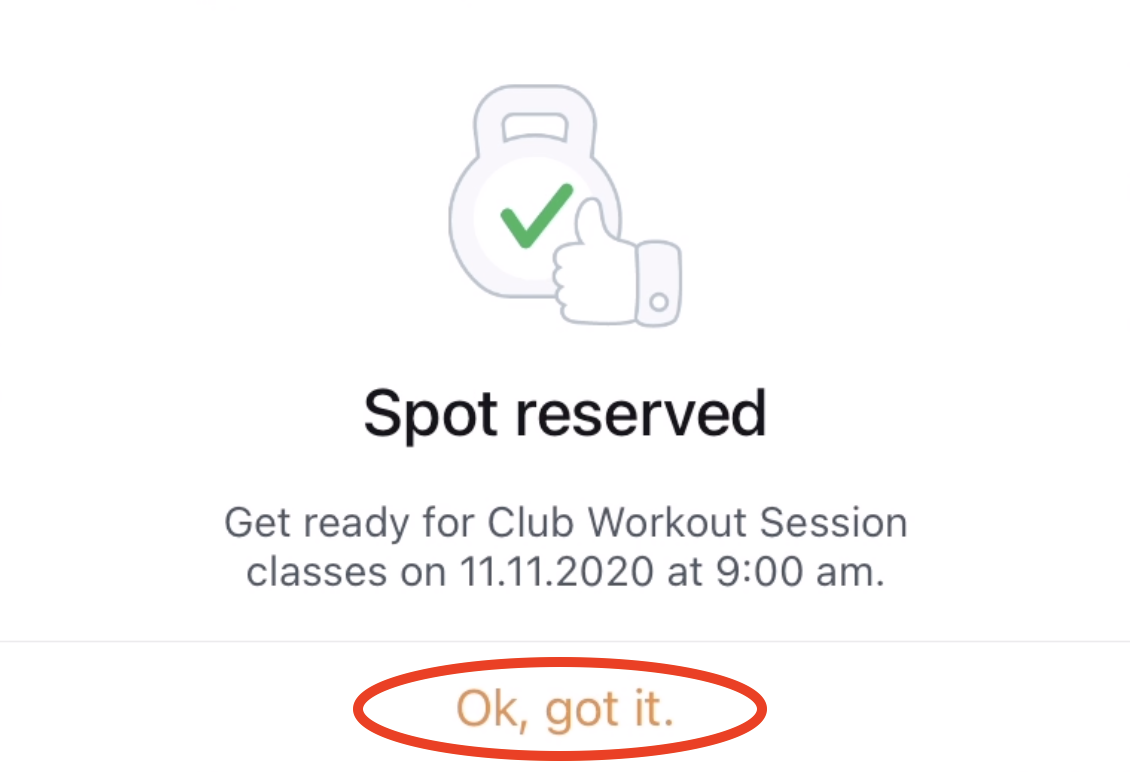 Setting up a Reminder: 
You'll then be asked if you'd like to set up a reminder before your gym session.
If you would like to do this, hit the '
OK
' button & choose your desired time e.g. 1 hour before.

You're all set!!! You can view your upcoming gym session on the 'Dashboard' tab of your app.

Cancelling a Gym Session: 
Make sure you are on the '
Dashboard
' tab. Here, you can view your upcoming gym sessions. Click on the session you'd like to cancel. You'll be taken to the
Class/ Session details page
. You'll see a '
x
' symbol next to your gym session. Hit the '
x
' symbol if you would like to cancel this session.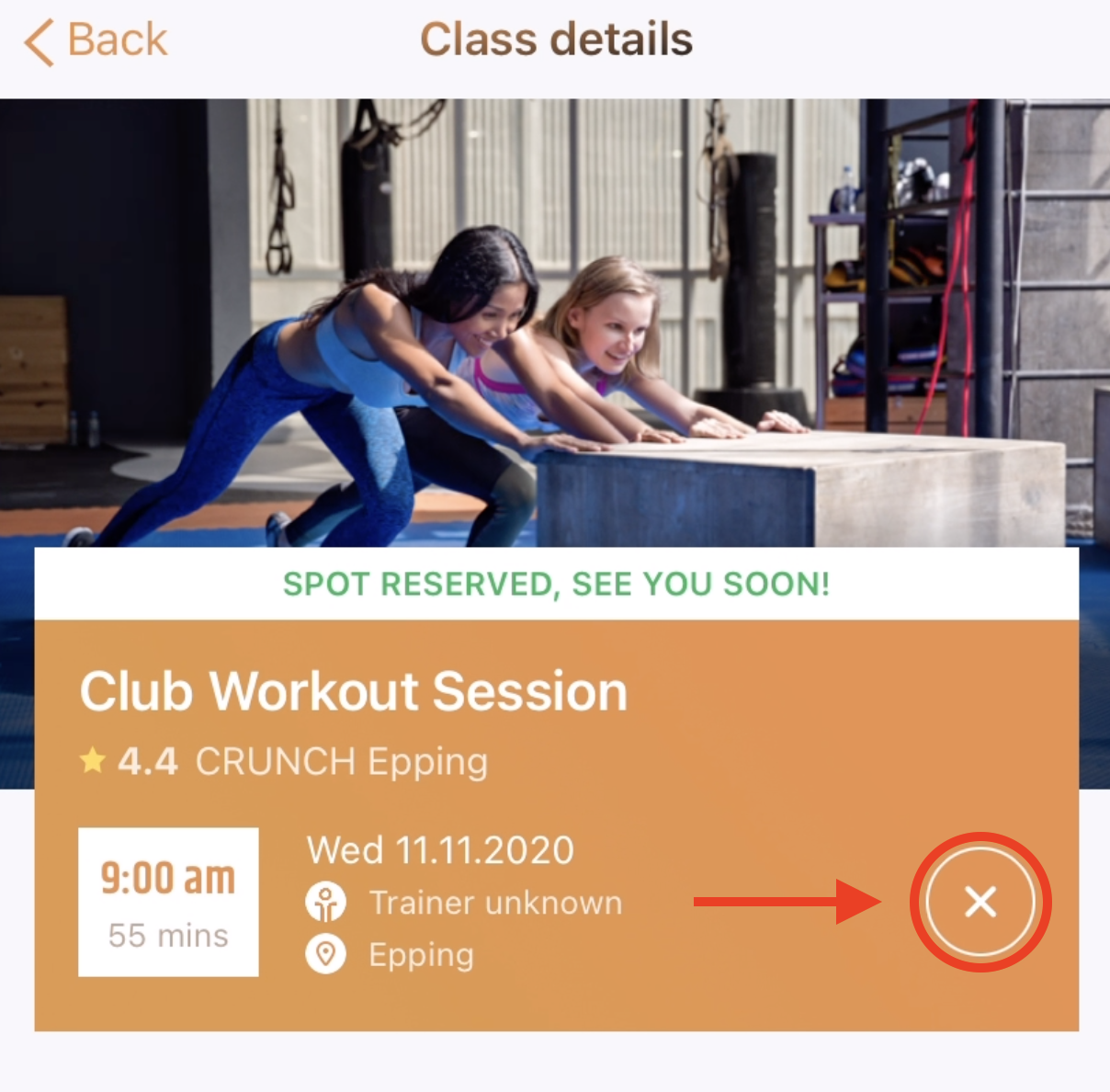 Then, select the 'Yes, cancel' button. You'll then receive a notification saying 'Reservation Canceled' to confirm this cancellation, hit 'OK'.


To be sure you've cancelled this class, go back to your dashboard page. This session should have disappeared from your dashboard!
Have a question?
If you've got any questions or have any issues booking in to your favourite class just ask your Club Reception staff and they'll be happy to help!
We can't wait to get class-y with you Crunchie!