Have you heard of the "75 Hard Challenge"? If you're on any form of social media, chances are that you have. The hashtags #75HardChallenge and #75Hard have almost 2 billion views on TikTok alone!
This challenge was created in 2019 by Andy Frisella, a motivational speaker, podcaster, and supplement company owner. Announcing the challenge on his podcast, Real AF, Frisella believes the 75 Hard is a "mental toughness program" as opposed to a "regular fitness program".
So, what exactly is the 75 Hard Challenge?
What is it?
The #75HardChallenge consists of 5 daily tasks that must be done every single day for 75 days straight.
The tasks are:
Follow a diet: Designed towards your goals. No alcohol, and no cheat meals!
Complete two 45-minute workouts: 1 of these workouts must be outside.
Drink 4L of water every day: get guzzling!
Read 10 pages of a book: Must be educational and nonfiction.
Take a progress picture everyday: happy snapper!

Is it good for you?
From face value, the 75 Hard Challenge will definitely provide you with some mental and physical benefits. Following a strict diet and workout routine will get you into great shape. Drinking plenty of water, along with no alcohol, will keep you hydrated and you may notice improvements in your skin, muscle recovery, energy levels etc. Reading self-development books can also improve your mentality, which will benefit also from the sheer mental toughness created by completing this challenge.
In summation, the challenge has potential to improve these and certain other aspects of your life.

The 75 Hard challenge also comes with its downsides. As this can be such an extreme lifestyle change for many, people can find themselves scratching their heads after the 75 days, and can fall back into their old patterns quickly. This type of challenge is very hard to sustain for long periods of time, with burnout and lack of motivation playing large factors. As the challenge is very demanding, experts have suggested doing the challenge 3-4 days a week, allowing individuals to enjoy and make time for themselves. Doing this consistently over a year would see major changes, and deliver far more results than going hard for 75 days straight.
The challenge also has a lack of specificity. With no clear-cut goals identified, this leaves the challenge entirely up to the individual. In some cases, people's goals will not even line up with the 75 Hard style. For example, if your goal is to build muscle mass, your workouts and diet will revolve around hypertrophy weight sessions and heavy carb + protein-based meals. 75 Hard offer no room for days off exercising, when this type of training requires a large amount of rest to be able to increase muscle mass.
The lack of flexibility is also a major turn off for some people. Setting aside and hour and a half everyday is in some instances unattainable, especially over 75 days straight. Life can get in the way sometimes, you could become sick, have a busy day at work, or need to look after your children or loved ones. Whatever it may be, this could put an end to your challenge, making you start all over again from Day 1. Doing this repeatedly is not good for your psyche.
Should you, do it?
If you have the time and are looking for something that is going to push you to your limits, then go right ahead! It can break you out of a plateau or just give you a different challenge as compared to you regular training. If you are planning on trying it, we recommend carrying out some research and setting up a plan before you begin. Some workouts may need to be easier or lighter to account for muscles soreness or tightness.
If you have issues with body image, self-esteem, or eating disorders, this challenge could increase the severity of these topics. You can achieve your goals through healthier and fun exercising regimes, whilst being able to enjoy the things you usually do!
Checking in with your GP if you are unsure whether this challenge will be good for you personally is a great idea! You could also see a persona; trainer who may even be able to set you up with a more targeted, programmed approach to help you towards your fitness goals!
WIN A THERABODY WELLNESS PACKAGE – VALUED AT OVER $3900
​CRUNCH AUSTRALIA wants to give YOU the chance to WIN an awesome Therabody package – valued at over $3900!
​
​Our Therabody Wellness Packs includes a Theragun PRO, Wireless Charging Stand, Theragun Mini, Wave Series Roller, Multi-Device Wireless Charger, Wave Due, Wave Solo, PowerDot Pro Bundle, RecoveryAir and a Therabody personal education session.
Click here to find out more!
Want a FREE GYM SESSION!?
Hit the link below to receive your FREE GYM PASS to your nearest CRUNCH Gym!
👉🏻 CLICK HERE
Don't forget to follow us on our socials!
I = crunchfitnessau
T = crunchaustralia
REFERENCES
https://www.cosmopolitan.com/health-fitness/a32908784/75-hard-challenge/
Got a question?
< Back
< Back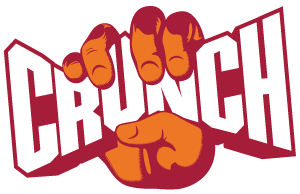 Crunch Fitness Virtual Assistant
I'd like some help reaching my Fitness goals!

I'm an existing member and would like some help!

I have some questions about becoming a Crunch member!