Ever found a workout online and thought, "Geez, that looks hard!"
Well, chances are you would be saying the exact same thing after stumbling across a workout that burns 600+ calories in only 60 minutes!
Yes, that's right – 600 CALORIES!
The '600 in 60' challenge was created by Jeannette Jenkins, founder of Hollywood Trainer Club. The hashtags #JeanetteJenkins and #600calories have over 7 million views combined on TikTok and has thousands of people trying the challenge.
So, what is the challenge?
The '600 in 60' challenge is designed to burn those calories fast! *Obviously right, it says it in the name! *
The workout is essentially a cardio sculpting kickboxing class, with only a mat needed (near the end of the workout, the rest is completed standing). It can be done anywhere and requires no weights or machines! Perfect for an 'at-home' workout when you can't think of anything to do! The class includes water breaks and has modifications for those who cannot perform certain exercises.
The YouTube video has over 34 MILLION views, and is performed by Jeannette herself, along with other trainers who demonstrate the modified movements. Jeannette herself burns 687 calories during this session, however it may vary from person to person, with some burning just under 600 calories, and other smashing 700+ calories.
Amongst the 9,000 YouTube comments, many describe just how hard the workout really is, with many people only being able to get through half the workout before needing a break. Other, on the other hand, can pound out this session up to 5 times a week! The weight-loss benefits of this workout are also on display, with hundreds exclaiming how they've lost kilos & kilos from completing (or trying to) this challenge once or twice a week!
Should you try it?
If you're looking to add variety into your training, or just want to challenge your mental toughness, then great – this is for you! It can also be a good way to kickstart your fitness/weight-loss journey, giving you attainable goals to hit. For example, if the first time you tried this workout, and only got through 20 minutes of it, your goal might be to get through two thirds of the workout by the end of the month. Whatever it may be, this workout gives you a realistic goal that you can aim for!
Obviously, if you have any underlying health issues or are only beginning to workout, it may be best to build up to trying this session. Consulting with fitness professionals and figuring out what is best for you individually will be the best plan when starting your fitness experience.
WIN A THERABODY WELLNESS PACKAGE – VALUED AT OVER $3900
​CRUNCH AUSTRALIA wants to give YOU the chance to WIN an awesome Therabody package – valued at over $3900!
​
​Our Therabody Wellness Packs includes a Theragun PRO, Wireless Charging Stand, Theragun Mini, Wave Series Roller, Multi-Device Wireless Charger, Wave Due, Wave Solo, PowerDot Pro Bundle, RecoveryAir and a Therabody personal education session.
Click here to find out more!
Want a FREE GYM SESSION!?
Hit the link below to receive your FREE GYM PASS to your nearest CRUNCH Gym!
👉🏻 CLICK HERE
Don't forget to follow us on our socials!
I = crunchfitnessau
T = crunchaustralia
Got a question?
< Back
< Back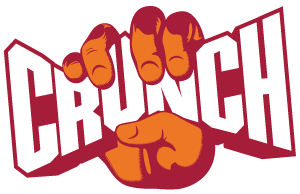 Crunch Fitness Virtual Assistant
I'd like some help reaching my Fitness goals!

I'm an existing member and would like some help!

I have some questions about becoming a Crunch member!