Achieving your fitness goals can often feel like a complicated and stressful process. However, the most important thing is finding the right plan and environment that works best for you so you can get into a regular routine.
Whether it's at a gym or your home, there are pros and cons to both options. This blog post will explore the physical, mental, and social benefits of going to a gym vs. home workout and provide tips for getting the most out of each option. 

Did you know…
Regular physical activity carries plenty of benefits: improved body composition, glucose homeostasis balance (for better blood sugar maintenance), increased insulin sensitivity and coronary blood flow…not to mention some serious gains in the looks department too.
You'll look and feel more confident in your skin and see the mental benefits in a matter of weeks, including getting a better night's sleep. Just 150 minutes of moderate to vigorous activity per week can increase your sleep quality by as much as 65%! So whether you decide to train at a gym or at home, the benefits of exercise are endless. 
So, let's dive into some of the pros and cons of gym and home workouts. 
Pros of joining a gym: 
If you're a beginner in the world of fitness, we know that joining a gym can feel daunting for some, and that's understandable. But we're here to tell you that gyms can be an incredible and affordable option to start you on your fitness journey. And even if you're already crushing your home workouts, adding a gym to the mix can take your fitness to the next level. 
First things first, when you join a gym, you're getting access to a whole range of amenities and equipment that you might not have at home, including the following pin and plate-loaded machines: 
Leg extension 

Shoulder press 

Lat pulldown 

Hack squat 

Leg press 

Bicep curl

T-bar row 

Hip thrust 
And much more! 
That means you can mix up your workouts and try new things incorporating strength and resistance training, HIIT workouts, and much more. 
And with a monthly fee, you're putting a little "skin in the game" to keep you motivated and, most importantly, disciplined. People tend to forget that motivation is fleeting, and there will be days when you don't feel like training, but with a monthly fee, it can assist in keeping you disciplined along your journey. Plus, you'll be surrounded by a supportive community, which is always a plus in our book. 
Don't forget; if you're still uncertain about training at a gym, you can also start with body-weighted exercises to get you comfortable in your surroundings. That way, you can use that time familiarising yourself with the gym floor, equipment, staff, members and overall vibe. 
You'll also gain access to Personal Trainers and Coaches who have years of experience and can guide, educate and correct your form and technique. This is especially useful if you've been training at home and have no one to help you. 
Here's a helpful tip: if you're particularly nervous and weighing up the options between a gym vs. home workout — remember that everyone starts somewhere, and even if you're unsure of where to begin, the fitness community is all about empowering, educating and inspiring others. 
You may feel nervous stepping into a new environment, but remember that growth and comfort do not co-exist. Therefore, stepping out of your comfort zone is the first step in hitting your goals in fitness and life. And don't worry if you're feeling a bit self consciouse because at Crunch, we're famous for our No Judgments philosophy.  Anyone, anyway and anyhow!
Cons of joining a gym: 
From location to cost, here's our list of cons when joining a gym. 
Firstly, location is key. Finding the right gym close to home or work can be difficult, especially if you're a busy parent with limited time or childcare options. You may also travel long distances for work, and commuting to your local gym can add more time and money (petrol ain't cheap!). Plus, if you're hitting the gym after work, you'll most likely walk into a busy gym as peak hours from 5-8 pm can get quite overcrowded. 
Also, being around other people in a gym environment can be overwhelming – whether it's due to noise, general anxiety, space or unavailable machines. But don't worry; here are our helpful tips for becoming more confident in the gym. 
Train with a friend. If you don't have gym friends (YET) simply strike up a conversation by asking someone to share a machine or comment on their gym fit (works like a charm!).

Know your program and workout for the day before walking in so you're not lost.

Train during non-peak hours around 9 am or before the 5 pm rush. 

Hire a personal trainer or coach for guidance. 

Get to know the staff on a first-name basis so you can establish relationships. 
As the cost of living increases, we understand that a gym membership can be a barrier for some people, but that's where Crunch comes in – we offer low fees, have four membership options available and even offer a free trial pass so you can come and check us out for yourself. We've made it easy for you to sign up and get your fitness journey on track. 
Pros of home workouts: 
Home workouts are a great option if you value flexibility and convenience. With accessible and affordable online classes and fitness apps, it's easier than ever to get a good workout from your home. And with more people investing in home fitness equipment, you can even replicate what you'd do at the gym. 
Some people believe you need every machine to get a good workout in, but in reality, all you need is a set of dumbbells, a bench, a barbell with various plates and any accessory you can get your hands on. Plus, the benefits of free weights at home means you're not restricted with space. Your home workouts will also become super versatile as you're not restricted with movements you can only perform on machines. 
Since COVID, more people have been working remotely, so it makes sense as to why it would also be more convenient exercising at home. You also can't ignore the fact that if we look at a gym vs. home workout, the home will come out on top when it comes to completing your workout within an hour as you don't have to wait around for free machines. No more awkwardly standing in one spot and eyeing the leg press until it's free. Simply train at home instead. 
Cons of home workouts: 
The downside of home workouts is it's easy to get side-tracked and find an excuse not to train. Plus, without the guidance of a fitness professional or your gym bestie, you might be at risk of injury if you're not sure how to properly use the equipment. And let's be honest – doing a workout in your living room can get pretty dull after a while. 
Even with a home gym with equipment, proper flooring and aesthetics, if you do not have a gym buddy or the right social environment to motivate you, your rest days can turn into rest weeks or even months! Cue the unused COVID gym in the garage (yep, we're pretty guilty). Not only that, gym equipment can cost thousands of dollars and they take up a lot of real estate in your home. 
By joining up at your local gym, not only are you surrounded by other fitness fanatics who will push and motivate you to train, but you'll gain access to an incredible facility with state-of-the-art equipment, varied classes and professional trainers who are always there to help. 
Striking the balance 
So, what's the solution between picking a gym vs. home workout? It's all about finding a happy medium. Joining an affordable gym like Crunch can give you access to various equipment and classes while still allowing you to supplement your routine with home workouts when needed. 
When looking for a gym, here are a few questions to ask: 
Can you test drive the gym with a free trial pass for a day or week?

Here at Crunch, you can! 

Is it close to your home or work?

With 17 locations in NSW and VIC, we're sure you can find a Crunch close to you. 

Is the team friendly and supportive?

Come and meet us to find out.  
Other questions you can ask include: 
How busy is the gym at the times you expect to work out? What hours is the gym open or supervised? 

Is there enough equipment to avoid long wait times? 

What are the amenities like? 

What are the class sizes? 
So, whether you're a gym newbie or a seasoned home workout warrior, both options have pros and cons. But by finding a balance that works for you, you'll be well on your way to reaching your fitness goals. And remember, Crunch Fitness and our professional team are here to support you every step of the way. 
So why not try us out with a free pass today? 
Click HERE to receive your FREE GYM PASS to your nearest CRUNCH Gym! 
Take care, and stay healthy! 
The Crunch Fitness Team. 
Warburton, D.E.R., Nicol, C.W. and Bredin, S.S.D. (2006) Health benefits of physical activity: The evidence, CMAJ : Canadian Medical Association journal = journal de l'Association medicale canadienne. U.S. National Library of Medicine. Available at:

https://www.ncbi.nlm.nih.gov/pmc/articles/PMC1402378/

.
Got a question?
< Back
< Back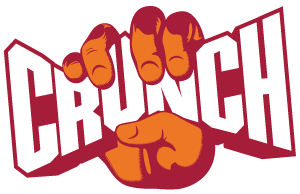 Crunch Fitness Virtual Assistant
I'd like some help reaching my Fitness goals!

I'm an existing member and would like some help!

I have some questions about becoming a Crunch member!