Theragun's seem like a futuristic approach to recovery, however, whilst the technology is at the forefront of innovation, the idea is simple. Pulsing between 1750-2400PPM (Pulses per minute) the Theragun mimics that of a deep muscle massage, only instead of using one's hands, a 'percussion gun' is used. If you're unfamiliar with Therabody products, in particular the Theragun, or just need your memory refreshed, read our previous blog here!
So, what exactly are the benefits of using this product instead of more traditional ways of recovering? Below we discuss why Theragun's are so important for maximizing recovery and getting you back to 100%!

INCREASE BLOOD FLOW
Theragun's increase blood flow and lymphatic circulation, which allows for more oxygen and nutrients to reach the fatigued muscles.
SCAR TISSUE
Percussion therapy breaks up existing scar tissue by deeply massaging collagen fibers to alleviate pain and reduce constrictions that scar tissue may cause.
LACTIC ACID
Releasing lactic acid build up in the muscles is key to recovering faster. Often after intense activity, lactic acid can linger in muscles resulting in prolonged tightness or soreness.

RANGE OF MOTION
Hitting the affected muscles will enhance the range of motion, along with creating more flexible joints and reducing the risk of any strains or sprains in future workouts. The Theragun can also stimulate nerve receptors, causing vasodilation in the skin and muscles, allowing for improved mobility.
SLEEP + WELLNESS
Using the Theragun can improve overall wellness along with providing users with longer and better sleep. Adding to this, immunity and reduced anxiety are also benefited by percussion massage.

Theragun's are vital in getting you back to 100% in the gym, whilst also assisting in other aspect of your life such as your sleep and overall health. Using a 'gun' for even 10 minutes a day can drastically reduce your recovery times and get you back doing what you love faster! Across all Crunch locations, we have Therabody products ready for YOU to have a go, just ask reception! So why not give 'em a go and see the benefits for yourself!
Want to go one better? Well, this month, we are giving away some AWESOME Therabody products, and all you need to do is head over to our Instagram to find out what you can WIN! We also have a MASSIVE prize at the end of this month, you can find out more about this by visiting your Crunch Club or checking out the 'What's on' section of our website!
Got a question?
< Back
< Back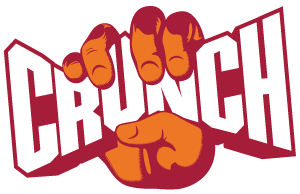 Crunch Fitness Virtual Assistant
I'd like some help reaching my Fitness goals!

I'm an existing member and would like some help!

I have some questions about becoming a Crunch member!