We met up with one of our amazing Crunch staff members, Zali Oulton to find out how she started working with the Crunch family at Dee Why & her motivation behind her awesome fitness journey!
ZALI'S EXPERIENCE WORKING AT CRUNCH

Image Source: @zalioulton
How long have you been with Crunch and how did you end up part of the Crunch family?
I recently moved to Dee Why from the Central Coast and was looking for a gym to join. Luckily, I found Crunch & loved it so much that I applied for a job as a Membership Officer! I've now be working here for about a year.
What's your favourite thing about being part of the Crunch staff family?
I love that we're really just one big family! It's so easy to get along with each staff member across all Crunch gyms as everyone is so friendly and inclusive. Just like we treat our members is how we treat each other!
How do you balance work with your training schedule?
Balancing work life with my training schedule was tricky in the beginning in terms of organisation and motivation. Now that I've adapted to my new routine, I find it so much easier to balance work life with gym life. Although I don't have an enormous amount of time (having a job & studying a degree) I thoroughly enjoy training which is a motivation for me to get to the gym & smash out a good workout – I always feel de-stressed and happier after training!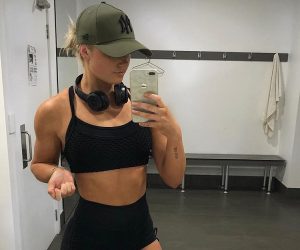 Image Source: @zalioulton
ZALI'S FITNESS JOURNEY
What inspired you into starting your fitness and bodybuilding journey?
When I first joined the gym with a group of friends, I wasn't really sure where to start. This is when I started a 10 week body transformation challenge, which got me into fitness and bodybuilding.
What is your training/workout schedule like?
I currently train 4 times a week in the gym and 2 times a week outdoors. When I'm training outdoors, it's for Rugby sevens, so any workouts that I do in the gym will coincide with power, strength and conditioning training. I'll usually perform 1 upper body workout on one day, 2 lower body workouts and a functional training workout.
How do you motivate yourself to train on days where you don't feel like working out?
On days where I'm not really motivated, I try to remind myself of how positive I'm going to feel once my training session is over. I know that coming to Crunch and training is going to clear my mind and allow me to focus on myself.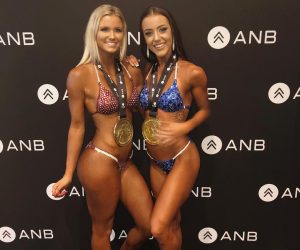 Image Source: @zalioulton
How has your fitness journey helped you live a better life?
When I first started training, I was more focused on my body image & I felt like I needed to workout to look good. Overtime, I've realised the importance of exercise and how it makes me feel. I have stopped worrying about my body image & started focusing more on my health and wellbeing – I now feel more positive about life, my friends, family & most importantly, myself.
What's your favourite thing about training at Crunch?
I love how Crunch is a place for everyone to train! Crunch is inclusive of all body shapes & sizes, all different types of fitness levels and there are no judgements! Everyone is here to have fun & train hard.
Do you think a training style and routine has worked best for you?
Yes 100%! The training style that's worked best for me is circuit style training. I can organise a circuit and incorporate all the different exercises I want to do that day, set a timer and off I go! Having a timer helps me to plan my gym sessions around my busy work & study schedule.

Image Source: @zalioulton
A MESSAGE FOR ALL THE FEMALES AT THE GYM
What's your message for all the young girls out there and lifting weights?
My message would be to not be afraid of the weights section – we're all here for a reason! No matter what gender you are, just get in there & focus on your goals.
Did you have any hesitations or fears being female and doing weights when you started?
I was definitely really nervous walking into the gym for the first time, it's only natural to feel this way! However, coming to a gym like Crunch made me feel comfortable as I could see that everyone was welcomed no matter their fitness level or experience in the gym.
Do you have any special tips?
Just be confident in yourself! Set yourself a goal & make yourself proud by stepping out of your comfort zone. Don't be afraid to engage with our friendly staff, no question is silly at all & we're always happy to help!

Image Source: @zalioulton
SEE HOW CRUNCH FITNESS CAN HELP YOU WITH YOUR OWN PERSONAL FITNESS JOURNEY
Congratulations Zali with how far you've come with your fitness journey. We're sure we'll be seeing many more amazing things to come!
If embarking on your own personal fitness journey just like Zali's is something you've been thinking about, get in touch with one of our friendly Crunch Fitness staff members. Whatever your goals or aspirations are, we have a team of world class personal trainers who are ready to take your sessions and goals to the next level.
Got a question?
< Back
< Back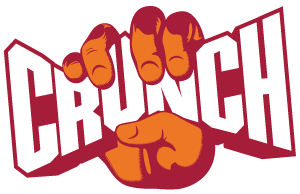 Crunch Fitness Virtual Assistant
I'd like some help reaching my Fitness goals!

I'm an existing member and would like some help!

I have some questions about becoming a Crunch member!