Crunch Fitness sat down with a former Member of the Month, Stevie Balocco, and listened to his incredible fitness journey that has seen him lose over 25kgs in 4 months!
An inspirational story, sit down and read below the trials and triumphs of Stevie's life and fitness voyage.

Tell us a little about yourself – how old are you, where did you grow up etc.
Steve: I just turned 46 yrs. old beginning of October. I grew up in Bossley Park and still remember it as a county town. It was for the most part farms and properties back in the 70's & early 80's. Like most guys, I enjoy watching Football, love the beach, spending time with loved ones. I love my music, enjoy live gigs and a Weekend BBQ with friends and family. 
When did you join Crunch?
Steve: I joined mid-July, 2022 
What was the catalyst in joining our gym, or was there one?
Steve: Recently, a number of events in personal life took their toll on me both physically and mentally. I was also overweight for the last 10yrs plus. As of June this year, I recached my heaviest weight of 127.9kg.  I was never comfortable with my appearance which also played with me mentally as well. I ate way too much, was too comfortable in my work and home life and as a result, ultimately paid the price for that.  
How does working out contribute to your mental health?
Steve: My mental health has greatly improved as a result of being active again. I find that I have more clarity and I am far more decisive when it comes to decision making. I have also found that I don't experience anywhere near as much mental stress as I did before. I am at this point in my life the most focused and more driven than I've ever been  
Describe the role that fitness has in your life now.
Steve: It plays a part in my daily life. I make far more conscious decisions about what I eat, when I eat, etc. I exercise for the most part daily. I find I feel much better afterwards when I do so.
How do you feel since you've joined the gym?
Steve: I feel great, both physically and more important mentally (Healthy body healthy mind as they say). My biological age 5.5 months ago was that of a 57-year-old. I am now at a biological age of 41. My body fat percentage was at 40.4%, it is now at 14.6%. I feel better, I sleep better, I don't snore anymore, my blood pressure has dropped as a result. I feel alive again, I feel like me again. 

What's your

favourite thing about Crunch?

 

Steve: The staff are friendly, good variety of weight and cardio equipment.  

 
Do you have a

favourite workout or exercise?

Steve: Most people would think I'm nuts but I actually enjoy working legs and abs.  

 
What advice would you have for other people who are going through what you have?
Steve: There never is a right time. Don't think, stop making excuses and just do! 
What advice do you have for those who are facing setbacks in life?
Steve: Everyone has their own battles to deal with. Just take comfort in knowing you're not alone. There is always someone out there in a worse position than you. Just stop, breathe and keep moving forward one step at a time.  
What advice would you have for beginners/people looking to get into the gym?
Steve: Listen to your body. If weight training, don't concern yourself with how heavy you can lift – focus on correct technique. Even a half assed workout is better than none at all. 
If you could go back in time – what advice would you give your younger self?
Steve: Whether it be love, life, relationships, work, marriage, family – Your actions in day-to-day life dictate your outcomes. Never forgot who you are and don't allow yourself to get lost in the rigors of life. 
In 10

years' time, where do you see yourself?

Steve: I see myself not being the person I was 10 years ago. I see myself continuing to evolve, grow both physically and mentally in order to become the best version of me 
You can view Steve's full interview on our YouTube here!
Got a question?
< Back
< Back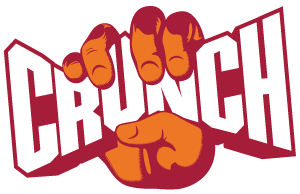 Crunch Fitness Virtual Assistant
I'd like some help reaching my Fitness goals!

I'm an existing member and would like some help!

I have some questions about becoming a Crunch member!