Touring with different artists for the past 8 years now dancing Reggaeton, meet one of our Group Fitness Instructors straight from Colombia, Valentina! Starting out as a Membership Officer at Crunch and 3 months later kicking off her dance instructing career, she has taught in almost every Crunch club across NSW. You can find Valentina teaching this class every Wednesday 7.30pm at Crunch Fitness Alexandria. Read on to learn more about her passion for Reggaeton dance!
Inspiring members to dance their hearts out

How I got into dancing & teaching Reggaeton
Living in Colombia, I started out my career in Nutrition & Dietetics and I was always dancing as a hobby, not as a profession. At the time, there was a casting with a Reggaeton artist and I was chosen to be one of the dancers to go on tour with them for two years. The second year on tour, I had the opportunity to choreograph many of the performances and it was during this process that my passion & love for dance grew immensely. I made the decision to stop my career as a Nutritionist to pursue a career as a Professional Dancer. For me, this was a beautiful and exciting thing as I got to perform in front of thousands of people. Fast forward a few years, I decided to stop touring, move to Australia and keep dancing as a hobby. Scoring a job at Crunch as a Membership Officer was great! It all came together for me when I completed my Dance Management course and was able to start teaching classes at Crunch. I am now loving life working in Sales while teaching & inspiring members to dance their hearts out.
Reggaeton Dance Style
Reggaeton is a style of music that originated in Puerto Rico in the 1970s. The Reggaeton dance style I would say is very strong & sexy, it's the Urban version of Latin Dance. You will learn strong movements & get a great lower body workout with this style of dance. I can say that trying out this class will definitely improve your attitude, confidence and help you feel sexy while having fun and ultimately bring out your personality.

Personal Training
Teaching dance & being a dancer myself allows me to do lots of cardio, however not much weights & strength. Crunch however offers Personal Training not only for the members but also for their employees. Having a Personal Trainer helps me to improve my strength & conditioning which in turn allows me to develop new skills in my dance routines.
My Experience at Crunch
My experience at Crunch Fitness has been very positive. I have had the opportunity to progress not only in my sales career but also as a dancer & teacher. For me, Crunch is one of the most attractive clubs for group fitness & dance as you get to do exercise while having loads of fun. Having a bachelor in Nutrition & Dietetics gives me the ability to apply my knowledge from what I've learnt through my studies to my every day health & fitness lifestyle and thus sharing this with the members here at Crunch.

The Crunch Culture & Community
I believe Crunch has a very happy & encouraging culture. As a dance teacher, I feel like the culture in the classes feels like we're one big family, everyone knows each other, and the members are very friendly & consistent with their training. When you have a gym culture where the members are consistent, dedicated & have a massive passion for fitness, it makes me love what I do even more. One thing I want to say about the community in our group classes is the underlying theme of Happiness & Inclusivity. The instructors & members at Crunch will always make you feel included even if you've never done a group fitness class before, you will be made to feel so welcome & encouraged to express your best self. Our instructors are so motivating to the point that you feel uplifted, supported & you want to come back for more! I believe Crunch is one of the most encouraging fitness branches that has a strong focus on their members & instills a no judgments policy across their whole community.
SEE HOW CRUNCH FITNESS CAN HELP YOU WITH YOUR OWN PERSONAL FITNESS JOURNEY
Congratulations Valentina on recently being promoted to senior Membership Officer! There is always room to grow at Crunch Fitness.
If embarking on your own personal fitness journey is something you've been thinking about, get in touch with one of our friendly Crunch Fitness staff members. Whatever your goals or aspirations are, we have a team of world class personal trainers who are ready to take your sessions and goals to the next level. If having a career at Crunch is something you are passionate about, you can apply here.
Watch the full interview here.
---
Got a question?
< Back
< Back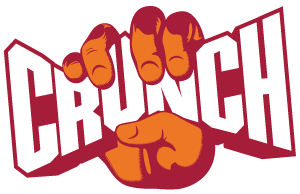 Crunch Fitness Virtual Assistant
I'd like some help reaching my Fitness goals!

I'm an existing member and would like some help!

I have some questions about becoming a Crunch member!