We met up with one of our bubbly & fun-loving Group Fitness Instructors, Vanessa Azzopardi. She shares her journey from starting out as a member at Crunch to scoring a job as an instructor now teaching classes across three Crunch gyms in Sydney!
VANESSA'S JOURNEY

How did you become part of the Crunch family & what is your role?
I started out as a member at Crunch and loved attending the classes. I developed a love for Group Fitness & decided that I wanted to become a Pound™️ Instructor which lead me to doing my Pound™️ instructing certificate with the Group Fitness Coordinator at Crunch Alexandria. After teaching this particular class for a while, I decided to dip my feet into other areas of Group Fitness & pick up a few other classes. I obtained a Certificate III in Fitness and am now a qualified Group Fitness Instructor at Crunch teaching a variety of classes!
Which Sydney locations do you run your classes & what types of classes do you teach?
I teach across 3 clubs in Sydney! These include Mortdale, Rockdale & Alexandria. I teach a variety of classes streaming from Chisel, Adrenaline, Bodyweb TRX, 360 Warrior to Butt Legs & Thighs, Ab Blast, Circuit City, Burn & Firm, Pound™️, Ultimate Conditioning and Abs Butt & Thighs. I also teach kids classes!
What is your favourite thing about Group Fitness and why?
My favourite thing about Group Fitness is the ability to be yourself & bring your passion for fitness to the studio. I feel that this particular department of Crunch is all about heart & soul, expressing what you love to do & sharing it with the members around you. I love the whole community aspect of everyone coming together of all different sizes and cultures as we have a NO JUDGMENTS policy at Crunch. I am also a Primary School teacher so I like to incorporate my teaching skills from school to my classes at the gym.

Have you created life-long friendships at Crunch?
I have definitely created life-long friendships at Crunch. Some of my closest friends started with me when I first became a Crunch member and followed my journey through to becoming an Instructor. I have built positive relationships with all our members & we're on a friendly-basis.
Do you have any special tips you'd like to share with our Crunch members?
My advice & tips that I would share with our members is that if you love what you're doing, you will do it to your absolute best of your ability so take pride & be confident in what you stand for. You'll end up resonating with the people around you & who knows, maybe you'll create life-long friendships at Crunch just like I did. Starting out as a member, I experienced feelings of lack of confidence due to being overweight. What I've learned from this is to just take the leap. Be yourself! Do not be intimidated or scared when you walk through those Crunch doors. You'll feel so welcome by the staff and members.

I believe I'm very lucky to be part of the Crunch community & if you've had a similar journey to mine, don't hesitate to talk to your Instructors, talk to the staff & members at Crunch. Make friends & be part of the community because Crunch is all about community, passion, love and heart & soul. Without all these elements, Crunch simply wouldn't exist. It's a place to come and just be yourself, there are no judgments no matter who you are or where you came from. If you see me around the gym or teaching your class, come say hi!
SEE HOW CRUNCH FITNESS CAN HELP YOU WITH YOUR OWN PERSONAL FITNESS JOURNEY
Congratulations Vanessa on your transformation from Crunch member to Group Fitness Instructor!
If embarking on your own personal fitness journey is something you've been thinking about, get in touch with one of our friendly Crunch Fitness staff members. Whatever your goals or aspirations are, we have a team of world class personal trainers who are ready to take your sessions and goals to the next level. If having a career at Crunch is something you are passionate about, you can apply here.
Watch the full interview here.
---
Got a question?
< Back
< Back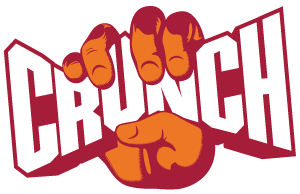 Crunch Fitness Virtual Assistant
I'd like some help reaching my Fitness goals!

I'm an existing member and would like some help!

I have some questions about becoming a Crunch member!