We interviewed one of our very own Chatswood staff members, Kyle McBride to find a little more about his experience working at Crunch & why its had such a positive impact on his life.
Life working at Crunch Fitness

How did you start working at Crunch Fitness?

I moved from Adelaide about 3 years ago and I started at our Sydney CBD Club as a Membership Officer. We fast forward 3 years now and I've just finished my 2nd year as General Manager of Crunch Fitness Chatswood.
What's your favourite thing about the Crunch staff family?
When I first started, I moved across by myself so it kinda was a family for me. Being surrounded by passionate, positive fitness minded individuals is awesome and it felt like the more that I gave, the more I got back and now I'm in a situation where I can provide the same for new starters in Chatswood.
How does Crunch help you spread our overall mission and message?
I'm provided with a platform to be able to engage with an entire community to spread our message. It's a no judgements gym so this is everyones gym from all walks of life. We know what we've got in here can help you look better and feel better.
Kyle's Fitness Journey

Image Source: @kale.mcbride
Can you tell us a little bit about your fitness journey?
About 4 years ago I was about 115kg, I'd just recently been diagnosed with depression and then I dropped out of UNI, lacking a general sense of purpose. Fitness has always been something that I've been really interested in, but I always went very extreme and I didn't really have the long term goals in mind. That's something that's now changed for me, I just do things that I can do each and everyday and as a result I guess I'm in the best shape of my life now.
What is your training schedule like?
I try to be active everyday typically 4 to 5 times a week I'm doing weight or circuit training. I really enjoy body weight exercises and running, but for me as well, training with someone is a big benefit to me as I love the social aspect of it and also having someone to hold you accountable as well.
Balancing work & gym Life

How do you balance your work life & gym life in your daily routine?
Routine is very important for me. My workout is the first thing I do everyday which means I wake up a little earlier to smash my workout before I start work in the morning! But if I don't get to fit this in, I try to make up for it at another time – it's all about finding balance!
Do you have any special training tips/life advice you'd like to share with our Crunch members?
From my own experience, I'd say it's all trial and error. You may not see the results you want to see straight away, but persistence is key. Keep tweaking things and you will find that you get better and better everyday, focus on the bigger picture of long term lifestyle & it will benefit you in the future.

If you have a similar story or maybe you're at the beginning or yours, Crunch Fitness has everything that you need whether it be classes or Personal Trainers. There's everything under one roof and the staff are always here to help!
SEE HOW CRUNCH FITNESS CAN HELP YOU WITH YOUR OWN PERSONAL FITNESS JOURNEY
Congratulations Kyle with how far you've come with your fitness journey. We're sure we'll be seeing many more amazing things to come!
If embarking on your own personal fitness journey just like Kyle's is something you've been thinking about, get in touch with one of our friendly Crunch Fitness staff members. Whatever your goals or aspirations are, we have a team of world class personal trainers who are ready to take your sessions and goals to the next level.
Got a question?
< Back
< Back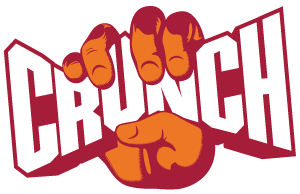 Crunch Fitness Virtual Assistant
I'd like some help reaching my Fitness goals!

I'm an existing member and would like some help!

I have some questions about becoming a Crunch member!