Christmas can be a difficult time of the year, especially tougher when you have absolutely no idea what to buy for your friends and family.
We've all had some shocking gifts, both received and given, which end up directly in the bin or stashed away in a cupboard never to see the light of day again.
Below we are going to run you through some of the better gifts to pass on this Christmas, particularly if they love working out and staying fit!
Have a brother who loves the gym? A sister who runs and runs and runs? Or a mother that cooks up all kinds of healthy recipes in the kitchen?
Dad, Nephew, Grandma – whoever it may be, we have the gift for them!!
First up, we'll look after those #fitspo parents, uncles, aunties, and whoever enjoys spending time in the kitchen making nutritious meals.
Air Fryer Healthy.
Now this recipe book is jam packed with everything you'll ever need when it comes to air fryer meals. Whether you're vegan, vegetarian, gluten-free, or just looking for a low-sugar treat, this book is for you!
It can be purchased here – or in any leading bookstore.

Next, we'll take care of those who are #GymJunkies.
Protein + Pre-workout Bundle.
This bundle is a perfect present this Christmas. With Optimum Nutrition Gold Standard Whey and Reset Pre-workout, this is sure to help with those gains!
This combo can be found here at HD Supplements – for an awesome price too!

Now, this is for that one person who seems to always be walking around with a water bottle in their hands.
The X Athletics Bottle.
This monster 1.3L bottle is one of the best bottles going around! The pop top lid provides easy drinking, and is reusable! No more plastic bottles!
Can be found here!

Looking for a stocking filler which is worth its weight in gold? Well then, you've come to the right place!
Now, hear me out –
Skipping Rope.
One of the simplest and easy gifts there is, yet is always overlooked. A skipping rope is an awesome exercise tool, especially if the person receiving it has little room to move in their house, apartment etc. It's a cardio session in a rope, cheap as chips, and can be used by anyone at any skill level.
Pick one up here!

Last but not least –
Resistance bands
Now these are for the home gym warriors, or just anyone looking for a quick and effective workout when they're a little short for time. With various levels of resistance, there is a band for everybody!
The great thing about these, is their versatility. They can target just about any muscle group, and with a little bit of imagination, you can create fun workouts which will get the body moving!
Find POWERBANDS here!
* If you are a Crunch Member, we have 35% off the entire range! Use code CRUNCH20 online!

WIN 10K CASH FOR A EURO TRIP
​WE at CRUNCH AUSTRALIA want to give YOU the chance to WIN $10,000* for a trip of a lifetime!
​
​Whether you want to tour the Colosseum in ITALY, the Eiffel Tower in FRANCE, or even party in GREECE – click here and see HOW TO WIN!
Want a FREE GYM SESSION!?
Hit the link below to receive your FREE GYM PASS to your nearest CRUNCH Gym!
👉🏻 CLICK HERE
Don't forget to follow us on our socials!
I = crunchfitnessau
Y = crunchaustralia
Got a question?
< Back
< Back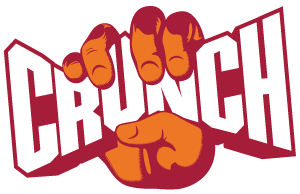 Crunch Fitness Virtual Assistant
I'd like some help reaching my Fitness goals!

I'm an existing member and would like some help!

I have some questions about becoming a Crunch member!