We had the pleasure of interviewing one of our awesome Group Fitness Instructors, Aaron Ishac. Starting out as a Membership Officer to now teaching full-time as a Group Fitness Instructor for classes such as Martial Arts, HIIT as well as Strength & Conditioning. Teaching across all Crunch Fitness clubs in Sydney, Aaron has proved his determination to better the lives of the members here at Crunch & generously shares some of his pro tips, advice & affirmations that can be applied across all aspects of our lives, not just health & fitness. Read on to discover what really makes him stand out amongst the Crunch crowd.
MY JOURNEY AT CRUNCH

How did you become part of the Crunch Family and how long have you been with us for?
I became part of the Crunch Family about 5 years ago when I first saw a job opening for a Membership Officer position at Crunch Fitness Bankstown. At the time the job application was open, I was at university studying Exercise & Sports Science. Due to my studies & passion for health and fitness, I decided I wanted to be in the Fitness industry at some capacity so I jumped at the opportunity, applied for the job and successfully obtained the position as MO selling Crunch memberships.
What was the best thing about being a Membership Officer?
The best thing about being an MO I would have to say was seeing all the fresh faces coming into the gym each and every day. Getting to know the people that walk through our Crunch doors really moved me in that they took their health, fitness and happiness very seriously. I loved being part of a fresh and high vibe environment where everyone was coming to benefit themselves. Through this role, I also acquired a lot of valuable skills in both sales and communication which I still use to this day.
How and why did you move into teaching Group Fitness classes full-time?
I made the transition from MO to Group Fitness Instructor in 2018. My manager at the time approached me and said Crunch was looking for someone to run a Boxing class, so of course I jumped at the opportunity! At this stage, I was 2 years into my job role and because of my studies in Exercise & Sports Science I was able to & eager to become a qualified Personal Trainer & Fitness Instructor. I started off instructing one class at a time, eventually taking on so many classes that I dropped my position as an MO & moved into teaching full-time. The reason for this is because my passion for Group Fitness kept growing, I love teaching & instructing, I've always wanted to be a Personal Trainer or gym instructor in some capacity & that's why I decided to go into teaching full-time.

What is your favourite thing about Group Fitness?
My favourite thing would have to be that each and every day & every class that I teach, I am impacting many people at once. I like being in a high energy environment! I'm appreciative of those members who take time out of their day to come and do my class (especially early mornings when it can be a struggle to get out of bed). If I'm having a bad day or am feeling lethargic, the second I walk into that classroom & see all those faces immediately lifts my energy & mood. I also love how I am able to have fun & express my creativity through my teaching.
Can you tell us more about your Crunch journey and how it has made a positive impact on your life?
My journey begins pre-Crunch. Finishing high school I was looking to get into the Health & Fitness industry at some capacity and was leaning towards studying physiotherapy. I've always been an active person & into all sports throughout school including Cricket, Football, Soccer, Athletics, Swimming and my background being in Boxing & Martial Arts. This lead me to studying my Bachelor of Exercise & Sports Science after school. Something you don't know about me is that while I was studying, my passion was to become a Personal Trainer but didn't have the qualifications. Scoring a job as a Membership Officer is something I am grateful for in that I've acquired so many skills that I now apply to my everyday life & career. Behind the scenes working as an MO, I started to pick up Personal Training clients and built up my own business on the side. Fast forward to today, I'm qualified as an Exercise physiologist & work in the exercise rehab sector dealing with a variety of clients such as Neurological patients and patients suffering from Muscular Skeletal disease. I'm now loving life as a Fitness Instructor at Crunch Fitness and being able to help people improve their functional capacity.

I'M PASSIONATE ABOUT THE

MEMBERS AT CRUNCH
Are you passionate about the members at Crunch?
I am extremely passionate about the members at Crunch. The reason for that is because of the way they make me feel about my job. I come into work everyday and teach classes and there are days where I'm not feeling up to it, but as I walk into that class my mood raises through the roof. I also love how the consistency of attendance from members allows me to build a relationship with them in that we can have a friendly joke and it doesn't feel like work at all! It's a lifestyle that's become the norm and has affected me in the most positive way. Somebody once asked me how it makes me feel to be impacting people's lives and at the time I didn't think about it too much. Now, I understand that each and every person comes to my class for a reason having their own journey and story, so the fact that they've chosen to come to my class and share their journey with me, makes me feel very privileged.

Do you have any special tips or life advice you'd like to share with our Crunch members?
The advice & tips that I want to share with you can be applied across all aspects of your life, not just health & fitness. What I would say to everyone out there is if you're wanting to achieve a certain goal or look and feel a certain way, although health and fitness plays a big part in achieving this, we also have to consider other important tools that will help us get there.
Don't focus too much on the goal at hand. For example, if you're someone who wants to be 20kgs lighter, what does you as a person 20kgs lighter do? What time do you go to bed and what do you eat? How many times do you go to the gym in a week?
Focus on getting into the habit and becoming the person you need to be in order to achieve that goal.
Set realistic and simple tasks each and every day. This might be going to the gym 3 times a week.
Completing those tasks will allow you to feel a sense of achievement and positivity within yourself. If you start to stress about not achieving the goals you've set within a certain time frame, you might feel like you've let yourself down. Don't wait to become the person you'd like to be, be that person now.

SEE HOW CRUNCH FITNESS CAN HELP YOU WITH YOUR OWN PERSONAL FITNESS JOURNEY
Congratulations Aaron on pursuing your passion and encouraging our members to be the best version of themselves.
If embarking on your own personal fitness journey is something you've been thinking about, get in touch with one of our friendly Crunch Fitness staff members. Whatever your goals or aspirations are, we have a team of world class personal trainers who are ready to take your sessions and goals to the next level. If having a career at Crunch is something you are passionate about, you can apply here.
Watch the full interview here.
---
Got a question?
< Back
< Back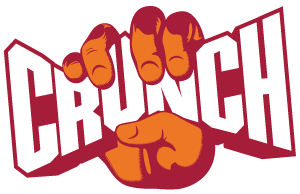 Crunch Fitness Virtual Assistant
I'd like some help reaching my Fitness goals!

I'm an existing member and would like some help!

I have some questions about becoming a Crunch member!