Looking for a new brand of protein? Or maybe you're new to the "supplement game", and have absolutely no idea as to what is the best!
Not to fear – many people are in the exact same boat! Deciding where to splash your cold hard cash can sometimes be like playing Russian Roulette, when it comes to picking a new protein powder! Being left with a tacky, smelly or disgusting protein powder can leave a bad taste in your mouth (literally!) and hinder you from actually getting that extra protein intake each day.
So, we've taken some of the burden off those shoulders of yours, with a deep dive into one of the more delicious supplement brands on the market – HAPPY WAY!
HAPPY WAY
Happy Way was founded in 2015, by good friends Ben Germein and Hien Nguyen. It was through Hien's work as a personal trainer that he unlocked a need that was common amongst his clients, particularly women. They were busy, motivated women who were wanting to incorporate protein powder into their routine. These women wanted something suited to their lifestyle, not just their workouts. They were after supplements that would energise and motivate, while also natural and delicious.
So Hien and Ben joined forces and set out to create an honest and fun product. One that uses all-natural ingredients, is rich in superfoods and absent of any nasties and unnecessary additives. They put their heads together and worked hard at creating this dream product. Data, research, sampling and one huge breakthrough later, Happy Way was born!
Happy Way has both a Whey & Vegan selection of Protein powders. These powders are made from 100% all natural ingredients, and have a five health star rating, are gluten-free, non-GMO, and organically grown!
Some of our favourites are the Vanilla Ice Ice Baby Whey Protein, and the Vegan Caramel Biscuit Protein!
Happy Way has also collaborated with Youtuber, and Health & Wellness entrepreneur Ashy Bines to create a range of both Whey and Vegan protein powders that will no doubt satisfy that post-workout sweet tooth! Including Choc Coconut, Triple Choc Fudge, and Choc Caramel, these flavours are a MUST. P.S – If you're looking to add that little bit of protein to your diet, add these flavours into your cooking the next time you're mixing up a sweet treat!
Happy Way also has an extensive range of BCAA's & Pre-Workouts for those looking to boost their performance in the gym! With flavours including Watermelon, Mango, and Pineapple – get that 'buzz' whilst still enjoying the taste!
They also have a range of Snacks, Superfoods, and accessories to help you in & out of the gym!
ALL Crunch members can receive 15% OFF ALL PRODUCTS by using the code CRUNCH15 at checkout!
We are also giving away 2 $100 GIFT VOUCHERS for YOU to WIN! All you need to do is visit our Instagram HERE and enter for your chance to win!
Got a question?
< Back
< Back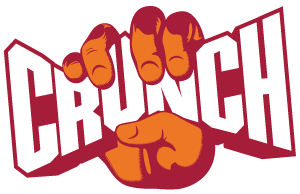 Crunch Fitness Virtual Assistant
I'd like some help reaching my Fitness goals!

I'm an existing member and would like some help!

I have some questions about becoming a Crunch member!