Picking supplements can be a difficult and long process. Figuring out exactly what you need, whether it will benefit you, and if it has the correct nutrients that you after can all take time and leave you feeling more confused than when you started.
The plethora of options on the market is unbelievable, with flashy marketing and bright colours, what is best for you may be hard to find in all the clutter of options.
Partnering with Powerhouse Supps, who aim to give YOU the best possible options when it comes to taking your supplement and training game to the next level, is definitely something that you should take a look at! They have stores across Sydney, and an online shop where you can browse until our heart's content.
Below, we take a look at some of the best products available, and whether they are right for you!
PROTEIN POWDERS
EHP Labs – Blessed Vegan Plant-Based Protein
The all-natural pure golden pea protein isolate contains 23g of protein per scoop at only 4g of carbs, and all of the essential amino acids. This means Blessed will keep you fuller for longer without any bloating. Made from 100% sustainable raw ingredients, this protein is gluten, soy, and dairy free!

R1 Protein HC – Whey Protein Isolate
Now this is no ordinary protein. This heat stable Whey protein hydrolysate is specially designed to withstand mixing temperatures ranging from boiling to freezing, this R1 Protein is equally enjoyable served hot or cold. Packing 25g protein, 12g essential amino acids, and 3g carbs per serve, this protein is a MUST for anyone looking for a tasty and enjoyable powder, either hot or cold!
With ZERO sugars, creamers, gluten, or amino spikes, this protein has ZERO limitations!

PRE-WORKOUTS
EHP Labs Pride Mild Pre-Workout
PRIDE is an industry-first, clinically-dosed full strength pre-workout for those who take their training seriously. Pride's advanced formula only contains ingredients that are ESSENTIAL TO PERFORMANCE. There is no itching sensation, no crash, no tingles, and no nonsense!

C4 ID Series – Mild Stimulant Pre-Workout
C4 Original lives up to its solid reputation with a classic formula for advanced energy, endurance, focus and pumps! But with a new bottle design and more delicious flavor options for you to choose from, you'll feel like it's your very first time experiencing the C4 pre-workout you know and love.
Whether you're just starting a fitness journey or you're striving to reach that next level, C4 Original will help you unlock your full potential.
6g CarnoSyn® Beta- Alanine
1g Creatine Nitrate (NO3-T®)
150mg Caffeine
1g Arginine AKG

FITNESS ACCESSORIES
This 1.3L Bottle is great for those who love mashing that water before, during or after their workouts! Saving you time refilling, and giving you an awesome bottle to have, this is a great addition to your gym bag!

This Rappd Liquid Chalk is great for those who love lifting heavy and doing calisthenics. Enabling a stronger grip, this long-lasting formula will have you taking your performance to the next level!

The Rappd Classic Powerlifting belt has been constructed with Buffalo leather in core and finished with Italian garment leather, giving the belt durable longevity. A staple in any gym bag for those who love lifting heavy and pushing the envelope.
Single prong stainless steel roller buckle
Genuine Buffalo leather core
Finished in Italian garment leather
Heavy-duty stainless-steel rivets
10 adjustment holes allowing room for weight fluctuation

Crunch Fitness has partnered with Powerhouse Supps to give you the chance to WIN A YEAR SUPPLY OF EHP LABS SUPPLEMENTS!
Head to our Instagram @crunchfitnessau and enter the draw to win this MASSIVE PRIZE!
You can also score 10% OFF* all products at Powerhouse Supplements with the code POWERCRUNCH10 at checkout!
Got a question?
< Back
< Back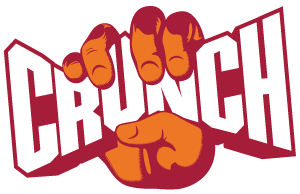 Crunch Fitness Virtual Assistant
I'd like some help reaching my Fitness goals!

I'm an existing member and would like some help!

I have some questions about becoming a Crunch member!