It's easy to go overboard on the sweets on Valentine's Day, so we've created this healthy Peanut Butter Protein Ball recipe. Not only are they delicious, but they are packed with protein and make a great snack! Gift the one you love with these healthy Valentine's Day Protein Balls that they'll love. You can also watch the full video to this recipe on our YouTube channel!
THE MAIN INGREDIENTS: 
Peanut butter: Use natural Peanut Butter with no added sugar. It will also make the mixture easier to stir due to the looser consistency.
Oats: Use  old fashioned oats if you can. If you can only use quick cooking oats or something similar, that's fine too!
Shredded coconut: Be sure to use unsweetened shredded coconut.
Chia seeds: An excellent source of omega-3 fatty acids, rich in antioxidants and have a ton of fiber.
Honey: The honey  is mostly used for sweetness in this recipe – if you don't have honey, maple syrup will work just as well.
Chocolate chips: This will give your Protein Balls that extra sweetness & crunch but you can skip them if you're really trying to be good.
Milk: Use whichever kind you prefer.
MAKES: 12

PREP: 5 MINS

TOTAL TIME: 40 MINS
INGREDIENTS
1 1/4 cup old fashioned oats
1/4 cup chocolate chips
2 tbsp chia seeds
1/2 cup shredded coconut (unsweetened)
3/4 cup peanut butter (natural)
1/2 tsp ground cinnamon
1/4 cup honey
2 tbsp milk
1/2 tsp pure vanilla extract
DIRECTIONS
Line a baking tray or chopping board with baking paper.
In a large bowl, add all your dry ingredients: oats, chia seeds, ground cinnamon, coconut, and choc chips.
Stir in peanut butter, honey, milk, and pure vanilla extract.
Once you've stirred your mixture together, roll into 12 medium-sized balls & place them on your baking sheet.
Refrigerate for 30 minutes or until chilled.



IMPROVE YOUR HEALTH & FITNESS PLAN AT CRUNCH FITNESS
No matter where you are with your health & fitness plan, we can provide the advice you need to move forward to reach your goals. Our certified world-class personal trainers are here to help you and make you feel confident with your fitness journey.
Many of our Personal Trainers here at Crunch Fitness have qualifications in Nutrition & Weight management and can be of help regarding nutritional advice. Head over to the crunch Personal Training Page to get into contact with one of our PTs  today!
Got a question?
< Back
< Back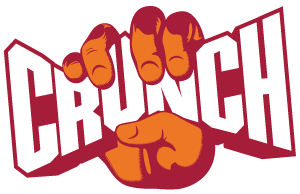 Crunch Fitness Virtual Assistant
I'd like some help reaching my Fitness goals!

I'm an existing member and would like some help!

I have some questions about becoming a Crunch member!