We're sharing our FAVOURITE Christmas recipes with you to give you some healthy (and tasty!) ideas for the holiday season! From sweet to savoury, we've got your back if you're stuck on what to take to the family bbq!
CACAO PAVLOVA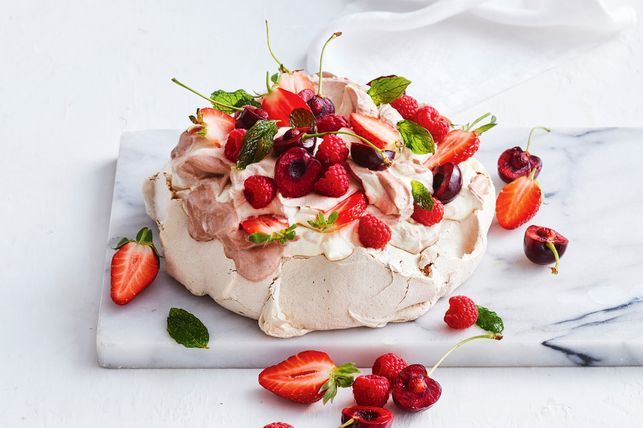 INGREDIENTS
3 egg whites
Pinch of cream of tartar
55g (1/4 cup) caster sugar
1 tbsp raw cacao
300ml thickened cream
130g (1/2 cup) thick greek-style yoghurt
1 tsp vanilla bean paste
600g berries of your choice
Fresh mint (optional)
STEP 1
Preheat the oven to 140C /120C fan forced. Trace a 20cm circle onto a sheet of baking paper. Turn over and place on a large
baking tray.
STEP 2
Use electric beaters with the whisk attachment to whisk the egg whites in a small bowl. Add cream of tartar. Beat until soft peaks form. Gradually add caster sugar, 1 tbs at a time, beating well after each addition until meringue is thick and glossy and sugar has almost dissolved. Add raw sugar in the same way. Add 2 teaspoons cacao and beat until smooth.
STEP 3
Spread the mixture over the circle on tray. Bake for 55 minutes or until meringue is crisp and pale. Turn oven off and leave the pavlova in the oven to cool.
STEP 4
Transfer the pavlova to a plate. Place cream in a large bowl and whip to firm peaks. Fold in yoghurt and vanilla. Sift in the remaining 2 tsp cacao and gently fold through to give a marbled effect. Spoon cream mixture onto the pavlova. Top with berries and cherries to decorate. Scatter with small fried mint leaves, if you like.
SPICED PUMPKIN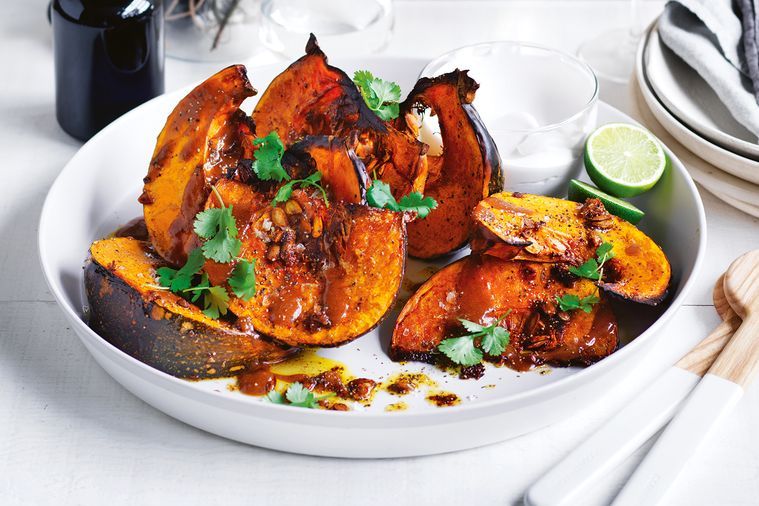 INGREDIENTS
1/4

cup (60ml) olive oil
1/2 tsp ground cinnamon
1.5kg pumpkin, cut into wedges
Coconut yoghurt, lime wedges coriander leaves, to serve
Maple & Cinnamon Dressing:
1 tbs tamarind puree

2 tbs maple syrup

1 tbs light soy sauce

1/4 cup (60ml) olive oil

1/2 tsp ground cinnamon

Juice of 1/2 lime
STEP 1
Preheat oven to 220°C. Grease and line a large baking tray with baking paper.
STEP 2
Whisk oil and cinnamon in a small bowl. Season, then rub all over the pumpkin to coat. Place pumpkin wedges upright on tray so skin is in contact with tray.
STEP 3
Roast for 40 minutes or until tender and edges are slightly charred.
STEP 4
Meanwhile, for the dressing, combine tamarind, maple syrup, soy, cinnamon and lime juice in a small bowl. Gradually whisk in the oil until well combined.
STEP 5
Place the pumpkin on a large platter, drizzle over dressing and serve with yoghurt, lime and coriander.
BEETROOT CAKE

INGREDIENTS
2 Beetroots,

 

scrubbed
200g dark

 

chocolate, melted, plus extra shaved
3 eggs, separated
3cm piece of ginger, finely grated
2/3 cup (240g) honey
2/3 cup (165ml) olive oil
1 vanilla bean, split, seeds scraped
Finely grated zest & juice of 1 orange
1 cup (150g) plain flour
100g polenta
2 tbs cocoa powder
2 tsp baking powder
1/4 tsp each ground allspice & cinnamon
DARK CHOCOLATE ICING
250g unsalted butter, softened
1 1/4 cup (270g) pure icing sugar
175g dark chocolate, melted
DRIZZLE
200g dark chocolate
200ml double cream
1/3 cup golden syrup
STEP 1
Cook the beetroot in a large saucepan of boiling water for 40 minutes or until tender. Drain and cool slightly, then wearing gloves, peel skin from beetroot.
STEP 2
Place beetroot in a food processor and whiz until smooth. Transfer to a large bowl and set aside to cool slightly.
STEP 3
Preheat the oven to 180°C. Grease and line a 22cm x 10cm (1.5L capacity) loaf pan with baking paper.
STEP 4
Add the chocolate, egg yolks, ginger, honey, oil, vanilla seeds and orange zest and juice to the cooled beetroot, and whisk to combine. Fold in flour, polenta, cocoa, baking powder, allspice, cinnamon and 1 tsp salt flakes.
STEP 5
Whisk the egg-whites in a separate bowl until soft peaks form, then fold into the beetroot mixture until just combined. Pour batter into pan and bake for 1 hour or until a skewer inserted comes out clean. Cool in pan for 5 minutes, then transfer to a wire rack to cool completely.
STEP 6
For the icing, using a stand mixer, beat butter until pale, scraping down sides with a spatula. Sift in icing sugar and beat for 1 minute or until combined. Add chocolate and beat for 2 minutes or until glossy.
STEP 7
For drizzle, simmer all ingredients in a saucepan over low heat, stirring until thick and glossy. Cool slightly.
STEP 8
Use a palette knife to spread icing over the cake. Spoon over the drizzle allowing it to run down sides of cake, then scatter over extra shaved chocolate to serve.
SWEET POTATO DIP

INGREDIENTS
750g sweet potato, peeled, roughly chopped
2 tablespoons raisins or sultanas
2 garlic cloves, crushed
1/2 teaspoon harissa pasta or chilli sauce
1 teaspoon each ground cumin, ground ginger & ground cinnamon
1/2 teaspoon caster sugar
1/2 teaspoon red wine vinegar
1/4 cup (60ml) olive oil, plus extra to drizzle
2 large rounds lebanese flat bread
1 teaspoon mild paprika or sumac
chopped coriander leaves, to garnish
STEP 1
Cook the sweet potato and raisins in a saucepan of simmering salted water for 15-20 minutes until soft. Drain well and roughly crush with a fork. Add the garlic, harissa paste or chilli sauce, cumin, ginger, cinnamon, sugar, vinegar and ½ teaspoon salt, and mix well. Gradually stir in the olive oil, then set aside to cool while you grill the bread.
STEP 2
Preheat the grill to medium-high. Carefully open up each flatbread to make 2 rounds, then grill in batches until crisp and golden. When cool enough to handle, break into large shards.
STEP 3
Drizzle the sweet potato with a little extra olive oil, dust with paprika or sumac, and scatter with coriander leaves.
STEP 4
Serve the spiced sweet potato dip on a platter with the crisp flatbread.
If you've made one of these recipes, we'd love to see it! Tag us (@crunchfitnessau) on instagram & we will repost your yummy creation!
IMPROVE YOUR HEALTH & FITNESS PLAN AT CRUNCH FITNESS
No matter where you are with your health & fitness plan we can provide the advice you need to move forward to reach your goals. Our certified world-class personal trainers are here to help you and make you feel confident with your fitness journey.
Get in touch with one of our friendly Crunch staff members today to book a personal training session.
Got a question?
< Back
< Back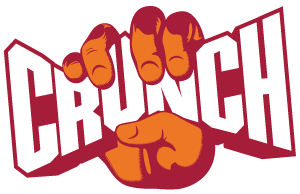 Crunch Fitness Virtual Assistant
I'd like some help reaching my Fitness goals!

I'm an existing member and would like some help!

I have some questions about becoming a Crunch member!