Australia Day is coming up & we know how hard it can be to not overindulge on food! We've provided some healthy alternatives for Australia's favourite foods that will help allow you to enjoy those calories without feeling so guilty.
Super Sausage Rolls

If you're looking for a healthy & tasty alternative to a sausage roll recipe, then try this one! Super yummy & easy to make.
Prep time: 20 minutes
Cook time: 15 – 25 minutes
Serves: 8
Ingredients
300g beef mince (check pack weight or ask for the amount from your butcher)
1/4 cup basil (finely chopped)
2 eggs
1/2 cup wholemeal breadcrumbs
1/2 cup carrot
1/2 brown onion
Salt and Pepper to taste
2 puff pastry (ready rolled sheets)
Sesame seeds
Method
Preheat your oven to 180 degrees celsius
In a bowl, mix together mince, basil, 1 egg, carrot, breadcrumbs & finely chopped onion
Cut your pastry sheets in half (about 12cm wide)
Grab your other egg, lightly beat
Divide the sausage mixture into 4 portions. Place the pastry on the baking sheet. Place each quarter of the sausage mixture along one edge of the pastry sheet
Brush the egg over the pastry (on the open strip opposite side of the mixture) & roll pastry over mixture into an even log
Brush the top of the pastry with egg & sprinkle with sesame seeds. Cut into rolls
Place roll seam side down on a lined oven tray with baking paper & bake for 20 mins or until golden
Low-fat Meat Pie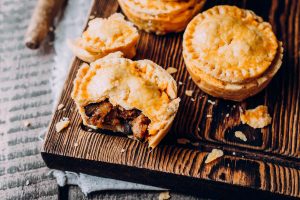 Using beef mince & canola puff pastry, you can make a delicious meat pie that only takes 20 minutes to prep & best of all… It's low-fat!
Prep time: 20 minutes
Cook time: 45 minutes
Serves: 4
Ingredients
1 medium onion (finely chopped)
400g extra lean beef mince
1 beef stock cube (dissolved in 1 cup hot water)
2 tbs cornflour (dissolved in 2 tbs warm water)
2 puff pastry (ready rolled sheets)
oil spray
Method
Preheat your oven to 200 degrees celsius. Spray 4 x15cm diameter pie tins with oil & set aside
Heat a large frying pan (non-stick) over medium heat & add onion. Stir until soft and golden
Over high heat, add in your mince & stir for 5 mins. Add salt & pepper to taste.
Add stock to your pan & leave to simmer for 10 minutes. Once thickened, remove pan from the heat & allow to cool
Cut your pastry sheet into quarters. Line your pie tins with 4 of the pastry squares & fill with mince mixture (equally distributing across tins)
Place remaining pastry squares on top. Be sure to press the pastry squares down so the mixture is sealed inside the pastry during cooking
Place your pies on the oven try & bake for 30 mins
Lighter Lamingtons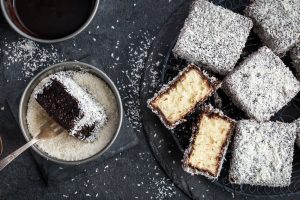 Even though this yummy treat might be low in calories, it still tastes amazing! Try these out – you won't regret it.
Prep time: 30 minutes
Cook time: 20 minutes
Serves: 20
Ingredients
4 eggs
1/2 cup sugar
1/4 cup cornflour
1/2 tsp vanilla bean paste
275g icing sugar
1/2 cup cocoa power
80g desiccated coconut
1/2 cup plain flour
Method
Preheat oven to 180 degrees celsius, lightly grease and line a baking tray with baking paper
Combine eggs and vanilla in a large mixing bowl & beat until thick and creamy. Add the sugar and beat until sugar has dissolved
Sift the flour and cornflour together. Gently fold in the sifted flour until just combined
Pour mixture into prepared tin, bake for 20 minutes. Remove, set aside to cool for 5 minutes, then transfer onto a wire rack to cool completely. Cut into 20 even squares.
Combine cocoa powder and 140ml boiling water in a large bowl, stir until smooth. Add icing sugar, stir until sugar has dissolved
Working one at a time, skewer a square of cake on a fork and hold over bowl of icing. Spoon icing over to cover, letting any excess drip off. Sprinkle lightly with coconut. Set aside on a rack over a tray, until icing has set. Repeat with remaining cake to make 20 lamingtons
IMPROVE YOUR HEALTH & FITNESS PLAN AT CRUNCH FITNESS
No matter where you are with your health & fitness plan, we can provide the advice you need to move forward to reach your goals. Our certified world-class personal trainers are here to help you and make you feel confident with your fitness journey.
Many of our Personal Trainers here at Crunch Fitness have qualifications in Nutrition & Weight management and can be of help regarding nutritional advice. Head over to the crunch Personal Training Page to get into contact with one of our PTs  today!
These recipes were sourced from the below websites. Crunch Fitness recommends these recipes for anyone looking to lower their calories & create low-carb recipes that still taste delicious!
Super Sausage Rolls (1)
Low-fat Meat Pie (2)
Lighter Lamingtons (3)
Got a question?
< Back
< Back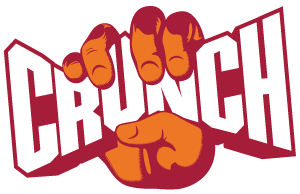 Crunch Fitness Virtual Assistant
I'd like some help reaching my Fitness goals!

I'm an existing member and would like some help!

I have some questions about becoming a Crunch member!