Easter is right around the corner, and many are stocking up their fridges (or pantry's) with the sweet treat that is chocolate. Whilst there are countless varieties, we have gone through some of the more popular variations to deliver you a comprehensive guide on what chocolate is best!
Milk Choc
Tried and tested, classic. You can't go wrong whipping out some milk choccy at Easter, or at any time. Can come in many shapes, sizes, and brands, and I'm sure everyone has their favourite 'style' of milk choc. There are hundreds of different ingredients that can be added to this type, with many being fan favourites to a lot of people.
Dark Choc
By far and away the 'healthiest' chocolate there is. Dark chocolate contains at least 35% cocoa, however dark chocolate with cocoa content of 70% – 85% is best. Some consider this type to not be as flavoursome or sweet as other chocolates, although roughly 1/3rd of the population enjoys this treat as their favourite.
White Choc
Now white chocolate; you either love it or hate it. Considering that White choc is the only 'chocolate' not be made with cocoa, only cocoa butter. Cadbury dream, Milky bar, and Lindt White are some of the favorites for this type of choc. Personally, I am a big fan of white choccy, but can understand those who aren't lovers.
Okay, so the 'Big Three' has been sorted, we now move onto some variations in the chocolate game. We've only picked a handful of the most popular, so don't shoot us if we've missed yours!
Caramello
Caramello chocolate is made with caramel filling and can be chewy or softer, depending on the brand. Fun Fact: The first 'Caramello's' were created with white chocolate, all the way back in 1968 by Cadbury. In Australia, this type of choccy was made famous by Cabury's 'Caramello Koala'. The chocolate covering the gooey caramel inside was in the shape of a Koala, and we loved them! (and still do!)

Caramilk
Fun Fact: The original Australian Caramilk bar was discontinued in 1994, and later reintroduced in 2018. In 2018, there were 1 million bars released as 'Limited Edition', and they caused quite a stir. People would flock from shop to shop in the hopes of finding a block of this 'chocolate gold'. For now, the bars continue to be sold, much to the delight of the public. This is definitely one of the most popular chocolates on the market!

Turkish Delight
The Turkish delight was first introduced way back in 1914! Consisting of the rose-flavoured Turkish delight surrounded by milk chocolate, this remains a classic and is very popular with the older generations. Whilst this isn't everybody's favourite, you've gotta respect the history and the longevity of this delicacy.

Cherry Ripe
The Cherry Ripe is uniquely Australian, and dates back to 1924. Created by MacRobertson Chocolate, and later taken over by Cadbury, this choccy consists of cherries, coconut and dark chocolate. A 2013 found this to be the most popular chocolate bar, and still holds a strong presence in the market. If you're interested in getting into dark chocolate, this is a great introductory choccy bar to get your tastebuds accustom!

Crunchie
The Crunchie was first developed in 1929 (Australia's version, the Violet Crumble, was created in 1913). The bar has a honeycomb toffee in the centre and is covered in milk chocolate. It is a popular chocolate bar all around the world, coming in many sizes. Other than the Violet Crumble, the Crunchie is quite a different chocolate compared to others.

Toblerone
Toblerone was created in Bern, Switzerland in 1908. The unique recipe consists of milk chocolate, nougat, almonds and honey. The bar comes in a distinct triangular shape. Fun Fact: Look closely at the mountain that is on the packaging, you may see something hidden!

Maltesers
First sold in 1937, Maltesers were aimed at women with the tagline – "The lighter way to enjoy chocolate". With a malted milk centre surrounded by milk chocolate, the Malteser was ranked #1 for most popular confectionary in the UK. The thing with Maltesers is that they are so easy to snack on, so be careful when treating yourself!

It's almost impossible to choose a favourite, so we've picked a Top 3!
Coming in at #3 is the classic Toblerone. Too good to not be on the list.
Second place we have Maltesers. There's a reason why these things are so good!
Drum roll please……… Caramello! The classic. A fan favourite, and hey, you can't go wrong with a Caramello Koala!
Think we've missed a chocolate? Or maybe you've got a better Top 3? Let us know in the comments what your fav choccy is!
WIN A THERAGUN ELITE – VALUED AT $650!
Visit our Instagram to go in with a chance to WIN!
WIN A TECH PACK – VALUED OVER $6000
​CRUNCH AUSTRALIA wants to give YOU the chance to WIN an awesome tech pack – valued at over $6000! PLUS, we are giving away over $1600 on our social!
​
​Our Tech Pack includes an LG 65" Oled TV, OCULUS Quest VR Headset, Apple Watch 45MM GPS, LG Sound Bar, Oura Ring, & Microsoft Surface PRO8. – click here and see HOW TO WIN!
Want a FREE GYM SESSION!?
Hit the link below to receive your FREE GYM PASS to your nearest CRUNCH Gym!
👉🏻 CLICK HERE
Don't forget to follow us on our socials!
I = crunchfitnessau
T = crunchaustralia
Got a question?
< Back
< Back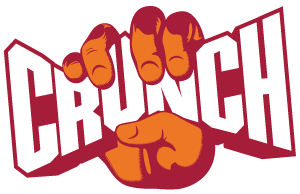 Crunch Fitness Virtual Assistant
I'd like some help reaching my Fitness goals!

I'm an existing member and would like some help!

I have some questions about becoming a Crunch member!