The old adage of breakfast being "the most important meal of the day" has been regurgitated more times than anyone would like to know.
With such little time in our day to day lives, especially during breakfast times, the team here at Crunch Fitness have formulated four awesome meals which will keep you on time, and on track with your fitness goals.
We begin with the tried and tested OATS!

Oats are a super quick and super easy morning breakfast to have. Whilst they can be quite a boring and repetitive meal to force down, with some creativity – they can be something that you look forward to in your morning routine!
They have some tremendous benefits, such as:
Nutritious
Rich in antioxidants
Can lower cholesterol levels
Can improve blood sugar control
Very filling
Assist in losing weight
CHOCOLATE PROTEIN OATS
Calories: 500. Protein: 32g. Carbs: 62g. Fat: 14g.
3 / 4 cup oats
1 cup milk
1 tsp vanilla extract
1 tbsp cocoa powder
1 scoop Chocolate Protein powder
1 / 2 sliced banana
1 tbsp peanut butter
VANILLA & RASPBERRY PROTEIN OATS
Calories: 250. Protein: 30g. Carbs: 24g. Fat: 9g.
 3 / 4 cup oats
1 cup unsweetened coconut milk
30g frozen raspberries
1 scoop Vanilla protein powder
NEXT UP –
BANANA PANCAKES

Now these are for when you have a little more time on your hands.
1 banana
1 tbsp buckwheat flour
1 large egg
1 tsp coconut oil (for fry pan)
1 / 4 tsp cinnamon
PRO TIP – ADD choc chips if you're feeling like a treat.
Mix batter and make pancakes as large or as small as you like!
And to top off these delicious recipes, why not wash it all down with one of the HEALTHIEST SMOOTHIES EVER!

Along with a blender, cup and mouth! You will need:
1 cup spinach
1 cup Kale
1 / 2 banana
Handful of almonds
3-5 Brazil nuts
1 tsp cinnamon
1 tsp cacao powder
1 cup coconut milk
This green concoction will have you overflowing with energy and keep you in a healthy physical and mental state, ready to take on the day!
Want a FREE GYM SESSION!?
Hit the link below to receive your FREE GYM PASS to your nearest CRUNCH Gym!
👉🏻 crunch – Client Portal (perfectgym.com.au)
Don't forget to follow us on our socials!
I = crunchfitnessau
Y = crunchaustralia
Got a question?
< Back
< Back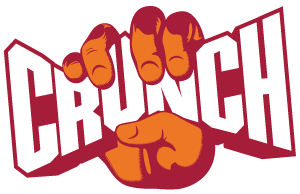 Crunch Fitness Virtual Assistant
I'd like some help reaching my Fitness goals!

I'm an existing member and would like some help!

I have some questions about becoming a Crunch member!