Aquame was born in Melbourne, Victoria. The Aquame3 water bottle is a pathbreaking smart bottle that tracks the users daily water intake and monitor hydration.
The smart water bottle watches your daily H2O intake, through the use of the Aquame phone app. This allows users to view hydration targets to make sure you're hitting your goals.
Aquame Features
Icy Satisfaction
Made from top-tier stainless steel, the Aquame3 is designed to keep your water frosty for up to 24 hours, allowing you to enjoy a crisp, refreshing sip whenever you like!
Warm Bliss
Great for winter or those early mornings, the Aquame3 also keeps those warm drinks insulated for up to 12 hours, allowing you to sip on that warm drink hours after you've poured it!
Rechargeable
The rechargeable bottle has a magnetic charger that take up to 2 hours, giving you more time to use the bottle during the day!
LCD Display
The Aquame3's most impressive feature, would have to be the touch-screen LCD display monitor. Showing you everything you need to know, including water temperature and how much water you've consumed!
Durable Design
Built tough. Built to last. The Aquame3 is reinforced with Double Wall 304 stainless steel and completely waterproof. This a water bottle you can count on even in the harshest of conditions.
Aquame Giveaways
Crunch Fitness Australia has partnered with Aquame to give Crunch members the opportunity to WIN one of these amazing smart bottles.
HOW TO WIN
Visit your home Crunch Club the most times during the month of April to Win! (1 Male & 1 Female Winner per club)
OR
Visit our Instagram and find our Aquame post! Simply follow us, tag a mate and go in the draw to WIN!
Got a question?
< Back
< Back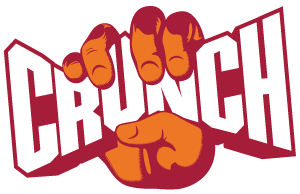 Crunch Fitness Virtual Assistant
I'd like some help reaching my Fitness goals!

I'm an existing member and would like some help!

I have some questions about becoming a Crunch member!