Surprise! Easter is here! It feels like Christmas was just yesterday and it's already Easter! Whether you celebrate it or not, you can't help but notice that chocolate temptations in all shapes and sizes are popping up everywhere you go. There's nothing wrong with enjoying yourself and eating some chocolate!
The only thing is, sometimes this can lead to feelings of regret rather than feelings of satisfaction and pleasure. If you have health goals that you want to stick to, or if you want to be able to enjoy yourself, have some chocolate and still feel good afterwards, without spiralling into a binge, then this article is for you!
Today, we'll be covering the top tips for how to stay healthy and guilt free this Easter!
1. Substitute processed Easter chocolates with homemade fancy protein balls or nutritious protein bars

There are so many tasty 'chocolate' protein bars and raw treats out there! Whilst everyone is eating away on their 10+ Easter eggs, why not try and indulge in a delicious protein bar?
Treat yo'self with that expensive one you always want to buy but rarely never do.  Or you can get creative and make your own protein balls! We created a fantastic bliss ball recipe that we know you'll definitely enjoy!
2. Stick to 3 healthy meals and 2 healthy snacks throughout Easter

One chocolate won't kill you! As long as the rest of your meals and snacks are on point during Easter, then it is ok to cheat slightly!
The trick is to ensure you get enough nutrients in your meals throughout the day. This way, you're still being healthy and not replacing nutrients necessary for your body to function and repair itself with sugar and chocolate.
Just make sure you have your 5 servings of veggies and fruit along with suitable portions of healthy fats, carbs and proteins as well. If you wanted to be super proactive, you can plan ahead and do some meal prepping.
3. Schedule a workout in even during the Easter break!

Schedule a good training session for the day after you know you may slightly cheat on your diet and sweat it out. You'll feel so much better after!
If you don't have the energy or time for your usual workout, try something shorter. Even going for a walk or trying out some yoga will put you in a better mood, mindset and state of health.
4. Don't buy in bulk
Instead of buying a packet of chocolate, stick to 1 bar. That way you will value that bar and schedule yourself the perfect time to eat it rather than snacking constantly for several days. It's all about being smart about it rather than overindulging.
5. Stay hydrated
Try sipping on water before you fall into any temptations (or eating a piece of fruit). You may not really NEED that chocolate.
A lot of times we consume sweets simply because we are thirsty.
Pro tip: Keep your favourite water bottle with you throughout the entire day and be sure to keep refilling it.
6. Keep raspberry tea close by

Just before you're about to tuck in to your first Easter chocolate, make yourself a nice hot cup of raspberry tea to sip on after you've had the chocolate. The strong flavour of the tea and its slight sweetness will make you feel satisfied with just a bit of chocolate and ensure you avoid spiralling into a binge.
7. Quality over quantity
If you are going to eat chocolate, make sure it is YOUR FAVOURITE chocolate. Don't just eat anything for the sake of it – make it good! Some of the Easter eggs on the market taste terrible! Be sure to enjoy a really delicious chocolate and savour it!
8. Try dark Easter chocolate

Dark chocolate has been shown to actually have positive health benefits! Don't feel like you're missing out on all the fun. Enjoy some delicious dark chocolate with a nice aromatic tea and have the best time at Easter without all the guilt!
9. Focus on spending your time with family
Instead of focusing all your attention on the temptations, bring your attention to your loved ones. Focus on really being present with them and feeling grateful. Easter is a time to get together.
10. Don't be mindless
Most of the time at family events, we may find ourselves just mindlessly snacking on whatever is sitting in front of us. To avoid this, be sure to move any random snacks away from you.
Instead grab yourself a nice tea, like a green tea if you need a pick me up or a berry tea if you need something soothing.
To take it to the next level grab some healthy snacks such as nuts or fruit. And don't forget that water!
11. Keep a food diary
Recording what you eat can really help put things in perspective. Using an app like Calorie King or My Fitness Pal can really help you out in keeping track of your diet and seeing if you've reached your macros. Old fashioned paper diaries work great too!
12. Celebrate your wins
Every time you do make a healthy choice, celebrate it! Each time you have eaten something healthy or decided to avoid eating something unhealthy, you have made a choice to be healthier and to take care of yourself more.
Feeling good about yourself and focusing on the small things, will motivate you to keep going. It will also reduce any feelings of guilt which are never helpful in any situation.
We can help you through the Easter festive season!
Our personal trainers can you help you stay on track during the festive seasons and give you the motivation you need!
We also provide fun group classes for those who want to try something new. Get in touch with one of our friendly Crunch team members to see what classes are available at your nearest Crunch Fitness gym.
Got a question?
< Back
< Back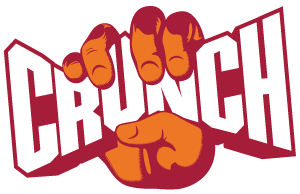 Crunch Fitness Virtual Assistant
I'd like some help reaching my Fitness goals!

I'm an existing member and would like some help!

I have some questions about becoming a Crunch member!