According to the American Heart Association, strength training is physical activity designed to improve muscular fitness by exercising a specific muscle or muscle group against external resistance, including free weights, weight machines, or your own bodyweight. (1) There are many benefits of strength training & is essential for good overall health & fitness.
PRESERVE MUSCLE MASS
As we get older, our body fat percentage increases & our lean muscle mass diminishes. Depending on the specific person, at the age of 30+ you will naturally begin to lose 3-5% of lean muscle mass each year of aging. We can prevent this loss through strength training; improving our functional performance, strength, and power. These components are essential for bone, joint, and muscle health as we age.

WEIGHT CONTROL
Strength training helps keep your weight under control as it helps to increase your resting metabolism (the rate at which your body burns calories during periods where you're not performing physical activity). As you increase lean muscle & burn calories, your body will undergo a healthy weight loss process.
REDUCES RISK OF INJURY
The increase of muscle will help to protect your joints, increase your coordination, and improve your balance & posture. This becomes increasingly important as we age to help maintain the strength and energy we need to perform daily activities.

IMPROVES STRENGTH AND FITNESS
Strength training is also called resistance training as it involves toning & strengthening your muscles by contracting them against a resisting source. When we do this, we are becoming stronger, making it easier to perform everyday physical activities e.g. The leg press is a great form of resistance training; allows you to build muscle, reduces the risk of injury, and counteracts age-related muscle loss.
IMPROVES YOUR MOOD
Strength training will lift your energy levels and improve your mood through elevating your level of endorphins, These are natural chemicals released in the brain when you exercise to trigger a positive feeling in the body.

HOW DO YOU GET STARTED?
You can perform strength training at home or in the gym. There are a variety of exercises you can perform to help build lean muscle mass; bodyweight, free weights & weight machines. Crunch Fitness provides all the necessary equipment & classes to help improve your strength. Try our Power Half Hour class that combines both speed and strength training to better your performance.
IMPROVE YOUR FITNESS PLAN AT CRUNCH FITNESS
Here at Crunch, we've got tons of weights, rows of cardio & loads of equipment available from treadmills to cross-trainers and rowers for you to check out! Download your Free Pass to trial our gym for FREE! No matter where you are with your health & fitness plan, we can provide the advice you need to move forward to reach your goals. Our certified world-class personal trainers are here to help you and make you feel confident with your fitness journey!
Got a question?
< Back
< Back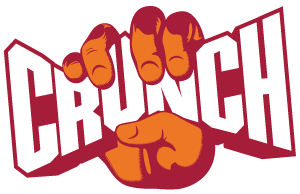 Crunch Fitness Virtual Assistant
I'd like some help reaching my Fitness goals!

I'm an existing member and would like some help!

I have some questions about becoming a Crunch member!