Injury's suck. We get it. Having to stop doing what you love, whatever activity that is, can be extremely taxing, not only on your physical body, but also your mental health. Figuring out ways to combat these negative problems that come along with being injured is the key to returning to full fitness as soon as possible, and not losing the progress that you have worked so hard for.
Below we outline some great strategies and solutions to getting YOU back to 100% whilst also staying active during the process.
Be Patient
Being patient with your recovery is vital to ensuring you give your body adequate time to heal whatever it is that may be injured. Rushing straight back into activities, when you may not be fully recovered, is only a recipe for disaster, and more time spent sitting out. A wise man once said, 'Patience is a virtue'!
Stick with your routine
If you're usually up at the crack of dawn in the gym, you should continue to do so! You may not be able to work out how you usually do, however you will fell a lot better sticking to your routine and going about your business as per usual. Falling away from a structured routine can spiral into mood swings, a lack of direction and depression. Stick to your guns!
Get outdoors
Fresh air is good, sunshine is even better! Being outside will make you feel GOOD, especially if the sun is shining and you're getting your dose of Vitamin D. Sometimes it can feel as tough you are 'cooped up' indoors when injured, try moving outdoors for as little as 20 minutes a day. Your body, and skin, will thank you for it!
Sweat
Don't forget to sweat. Aim to get your heartrate up 2-3 times a week when injured with some sort of cardio or workout that gets the blood pumping. You may have a lower body injury, here we would recommend using the skier, rope pull machine, or the assault bike (arms only)! If you have an upper body injury, maybe try the walking on the treadmill, the bicycle, or the Stairmaster!
Stay connected
One thing about injuries is that whilst it takes away the activity you love doing, it also takes away the things associated around it, such as connecting with friends and enjoying quality time. Staying in touch or 'in the loop' is essential for a healthy mind. You might have to be the designated spotter for a while; however, you will still be able to interact with your friends and share some laughter.
Eat Properly
When injuries happen, it can feel like the 'wheels come off' and everything that you've worked for has been thrown out the window. Maintaining a solid, healthy diet is key to staying on track and healthy. You may have to reduce the amount you eat, if you are not working out as much, or you could take the opportunity to 'bulk up' during this time. Whatever it may be, eating healthy is one of the more overlooked areas when it comes to getting you and your body back to 100%.
Focus on the Now
There is no point stressing or being worried with whether or not you'll be fully fit at a certain point in time. Take the internal pressures away and focus solely on right now. What can you do right now to help you recover? Consciously asking yourself this question can help push you towards your end goal and keep you focused.
Obviously, every injury can be different, which is why working with your body and understanding exactly what needs to be done Is imperative to recovering faster and staying on track whilst injured. Keep these tips handy whenever you're injured and always aim to find the positives when faced with setbacks!
Want to get on top of your fitness? Looking for that extra hit of protein each day? Or maybe you're after some pre-workout to get you HYPED!
We've teamed up with Happy Way to give YOU a chance to win 1 of 2 $100 Gift Cards! All you need to do is visit our Instagram here & enter!
You can also score 15% OFF using the code CRUNCH15 for all products store wide!
Want a FREE GYM SESSION!?
Hit the link below to receive your FREE GYM PASS to your nearest CRUNCH Gym!
👉🏻 CLICK HERE
Don't forget to follow us on our socials!
I = crunchfitnessau
T = crunchaustralia
Got a question?
< Back
< Back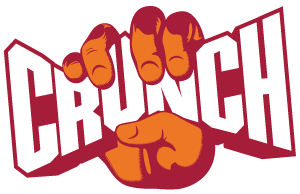 Crunch Fitness Virtual Assistant
I'd like some help reaching my Fitness goals!

I'm an existing member and would like some help!

I have some questions about becoming a Crunch member!