We all know just how hard it can be to get moving consistently, especially now during the colder months when motivation can take a hit! Whether the end goal is to lose weight, gain weight, or simply spend more time working on yourself, the challenge is often more mental than physical.
Committing to a solid workout schedule can be a difficult task, even for those who have been working out for years. This is where beginners and casual gym-goers can struggle with forming healthy habits and staying consistent with their training.
Below we have identified 5 great ways to help those looking to make working out a daily habit!
5 ways to make it a habit!
Start Small
Instead of throwing yourself all in immediately, with long gym sessions, aim to start small and build up to these long workouts. Starting with massive workouts can lead to burnout; leaving you sore, with no motivation, and back where you started. Working up towards longer gym sessions with shorter sessions will allow you more freedom and flexibility. Even starting with a 5-minute walk can trick your mind into wanting to exercise frequently.
Pull back on Goals
Setting goals is one of the best ways to stay focused and committed to workout out. However, a lot of people set goals that can be unrealistic. The key is finding a "SMART" goal, which is Specific, Measurable, Attainable, Relevant, and Timely. Setting goals that are so extreme can have the opposite effect, leaving the individual disappointed and negative when the goal has not been achieved. The right kind of goal should leave the individual happy, motivated, and excited to be continuing their fitness journey. As the saying goes, "it's not the destination that matters, but the journey"
Enjoy the Process
You've got to enjoy the process of working out, instead of being fixated on the end results. "Stop & smell the roses" is a great analogy to exercising, as you need to appreciate the little things throughout the journey. Living in the moment and actually enjoying your workouts will push you harder and take you further than any end goal can.
Mix it UP!
One of the greatest ways to make working out a habit is VARIETY! Changing workouts from day to day can not only benefit your physical health, but also add to your mental strength. Trying new workouts or exercises can keep your training fun and fresh! Continuously recycling the same workouts/exercises can become repetitive and boring, leading to you skipping sessions with little motivation to maintain your routines.
Forget the 'All or Nothing' Mindset
When it comes to staying on top of exercise, many approach it with an 'All or Nothing' mindset, meaning they are 100% in on fitness, having to eat healthy every meal and workout every day, or, they skip a workout or have a 'cheat meal', and their training progress has been lost and they stop working out all together. This state of mind can be self-sabotaging, and is not a long-term sustainable approach. It is perfectly fine to skip a session or eat some "unhealthy" every now and then, and this will definitely not halt your progress in the gym. Taking each day as it comes and understanding what your body needs is essential for staying on top of your health, both physically and mentally.
We hope you can take some advice out of the above tips! Training and working out looks different for everyone, so take it as it comes and listen to your body. Figuring out a schedule that works for you, along with goals that you feel are attainable and can be reached can set you on the right path to success in your fitness journey! Life moves pretty fast, if you don't stop and look around once in a while, you could miss it.
WIN A THERABODY WELLNESS PACKAGE – VALUED AT OVER $3900
​CRUNCH AUSTRALIA wants to give YOU the chance to WIN an awesome Therabody package – valued at over $3900!
​
​Our Therabody Wellness Packs includes a Theragun PRO, Wireless Charging Stand, Theragun Mini, Wave Series Roller, Multi-Device Wireless Charger, Wave Due, Wave Solo, PowerDot Pro Bundle, RecoveryAir and a Therabody personal education session.
Click here to find out more!
Want a FREE GYM SESSION!?
Hit the link below to receive your FREE GYM PASS to your nearest CRUNCH Gym!
👉🏻 CLICK HERE
Don't forget to follow us on our socials!
I = crunchfitnessau
T = crunchaustralia
REFERENCES
https://www.nbcnews.com/better/health/6-mental-tricks-tricks-help-make-exercise-habit-ncna914386 https://zenhabits.net/how-to-make-exercise-a-daily-habit-with-a-may-challenge/
Got a question?
< Back
< Back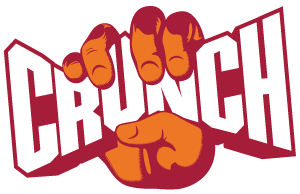 Crunch Fitness Virtual Assistant
I'd like some help reaching my Fitness goals!

I'm an existing member and would like some help!

I have some questions about becoming a Crunch member!