Living a healthy, active lifestyle can be the key to improving & helping you live your life to the MAX! Not only will you see positive results in your physical appearance, but your mental, and emotional health will also be boosted from working out at a similar time each day.
Below we'll check out what exactly a 'weekly workout plan' can look like, but also all of the added benefits that come with moving your body!
What does a weekly workout plan look like?
A workout plan can look different for a lot of people. The key is to figure out a plan that works best for you and is manageable. It's no use planning out 5 x 1-hour runs during the week if you're only just beginning your fitness journey. Taking small steps and committing to the plan in necessary in order to gain any benefits!
A regular plan will allow you to achieve your goals faster, and in turn, get you fitter faster! Figure out your end goal, and work back from there, deciding what exercises, workouts, and dietary adjustments you need to make.
6 BENEFITS OF REGULAR EXERCISE
Exercise improves mood
Exercise can play a major role in our moods. Stimulating brain chemicals through exercise (it can even be a short walk on a treadmill) will leave you happier, relaxed, and less anxious. Partaking in regular exercise can boost your confidence and improve your self-esteem!
Exercise boost energy
Working out delivers oxygen and nutrients to your muscle tissue and helps improve your cardiovascular system. Now, with more breath than ever before, you body will be able to work a lot easier during the day giving you that extra boost in energy!
Exercise controls weight
Thinking of dropping a few kgs for Summer? Well do we have the ticket for you! EXERCISE! Regular exercise will help burn those calories. Consistency is another key player here, so aim to hit at least 30minutes of exercise each day to stay on top of it.
Helps fight health conditions & diseases
Regular exercise helps prevent or manage many health problems and concerns, including:
Stroke
High blood pressure
Depression
Anxiety
It can also help improve cognitive function and helps lower the risk of death from all causes.
Assists in sleeping
Tossing and turning all night? Can't seem to get those Zzz's in? A bit of physical activity should do the trick! We don't recommend doing any right before bedtime though, as a raised heart rate will have you catching your breath when relaxation and *zen* is the goal.
It's fun & social!
Get out & about! Walking into the gym at the same time each day, you're bound to bump into a few people you recognise, and before long, you'll be working out with them! See! Working out = more friends!
Tag us on Instagram @crunchfitnessau and #crunchau so we can see your workouts! And hey, you just may feature on our Socials or in-club TV screens!
Want a FREE GYM SESSION!?
Hit the link below to receive your FREE GYM PASS to your nearest CRUNCH Gym!
👉🏻 CLICK HERE
Don't forget to follow us on our socials!
I = crunchfitnessau
T = crunchaustralia
Got a question?
< Back
< Back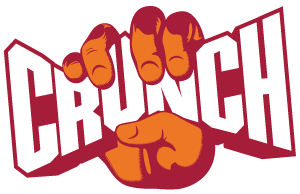 Crunch Fitness Virtual Assistant
I'd like some help reaching my Fitness goals!

I'm an existing member and would like some help!

I have some questions about becoming a Crunch member!