Halloween is here! And before you go filling up on sweets & treats, we thought we'd share a spooktacular workout idea to keep you in the Halloween spirit! We've also got some great songs that pair perfectly with a workout finisher, so before you don your bed sheets and pitchforks, smash out a Halloween themed workout!
Now, this wicked workout lasts for 15 minutes, and is as many rounds as possible (AMRAP) during that time! You can start by warming up the body with some stretching, we recommend the Dead Bug and the cat cow!
MANIC MONDAY WORKOUT
So, the workout consists of five exercises for 15 reps each. Pick a weight for each movement that will be challenging but still be able to hit the rep range. Bonus points for play songs such as manic Monday, Highway to Hell, Zombie, and Thriller!
15 deadlifts
15 skull crushers
15 jack knives
15 pistol squats (each leg)
15 Boo-urpes
See how many rounds you can get through during the 15 minutes! No doubt you'll be shocked to your core by this spine-tingling session!
For those looking for more, we've got two great options to top off this workout!
'Ghostbuster' Finisher
Load up the classic 'Ghostbusters' tune by Ray Parker Jr. and get to work!
You will do star jumps throughout the whole song, and every time you hear the word 'Ghostbusters' get down and perform 1 burpee. Every time you hear 'I ain't afraid of no ghosts' perform 3 squat jumps. This should definitely get the heart rate up and allow you to enjoy a few extra treats later on!
'Thunderstruck' Finisher
A bit AC/DC never hurt anyone! For the duration of this song, hold a squat position. Every time you hear the word 'Thunder' do a squat jump. Every time you hear the word 'Thunderstruck' – perform a burpee! GET THUNDERSTRUCK!
Want a FREE GYM SESSION!?
Hit the link below to receive your FREE GYM PASS to your nearest CRUNCH Gym!
👉🏻 CLICK HERE
Don't forget to follow us on our socials!
I = crunchfitnessau
T = crunchaustralia
Got a question?
< Back
< Back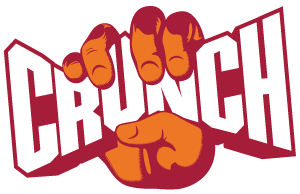 Crunch Fitness Virtual Assistant
I'd like some help reaching my Fitness goals!

I'm an existing member and would like some help!

I have some questions about becoming a Crunch member!