These gluten-free, sugar-free treats are full of protein, and they taste delicious!  Protein Bliss Balls can be made in the easiest way – no cooking needed. You and your loved ones are sure to love these healthy treats!
Before we move on to the delicious recipe, we should talk about why protein is vital in a healthy balanced diet. It's important to be educated on what you put into your body so you can make an informed decision!
Why protein is good for you
Protein is really important for your health and should be a part of your everyday diet. There are 4 reasons why it's good for you:
Protein improves the appearance of your skin, hair and nails. In fact, protein is part of every component of every cell in your body!
After working out it helps repair and build muscle tissue
Protein is required to make enzymes, hormones and various other body chemicals
It is an important foundation for bones, cartilage, skin, muscles and blood
Now that you know what makes protein so awesome and important, let's look at an easy recipe that will help you get the required amount of protein through the festive season.
The ingredients for Protein Bliss Balls
1.5 cups almonds
1/2 cup shredded coconut
An extra 1/4 cup shredded coconut for decoration
1/3 cup coconut oil
1/3 cup cacao powder
14 Medjool dates
The method to create them!
Step 1
Place the dates in a medium-sized bowl and cover them with water. Let them soak for an hour.
After an hour drain the water and cut out any seeds.
Step 2
In a blender process the dates, almonds, shredded coconut, coconut oil and cocoa powder. Blend until all the ingredients are mixed together and form a cookie dough like paste.
Transfer to a bowl.
Step 3
Place the rest of the shredded coconut in a dish.
Step 4
Roll the mixture into small balls. Roll the balls in the coconut to coat.
Place aside and repeat with the rest of the mixture until you have a beautiful mountain of Bliss Balls.
Share your creations with us!
Don't forget to share your delicious protein balls with us through our Facebook page or simply tagging us on Instagram! We'd love to see your festive protein creations! For more health and fitness tips check our our blog too!
At Crunch we live by the no judgements mantra, so if health and fitness is something you'd like to get into, consult with one of our personal trainers or friendly Crunch family members today who can guide you on the start of your personal health and fitness journey!
Got a question?
< Back
< Back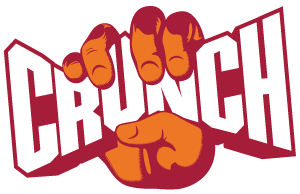 Crunch Fitness Virtual Assistant
I'd like some help reaching my Fitness goals!

I'm an existing member and would like some help!

I have some questions about becoming a Crunch member!