Gut health is an extremely important aspect of your health, with gut bacteria making up most of the 40 TRILLION that is in your body! Crazy! – HealthLine
Better known as gut microbiome, these affect your overall well-being. Many factors, including what you eat, can have an impact on the types of bacteria found in your body.
When it comes to diet, you've gotta change it up!
As there is SO many different types of bacteria in your intestines, you need to add variety in your meals in order to maintain this diversity.
Below we have done the heavy lifting for you, and found some easy and healthy ways to advance your gut health!
FRUIT & VEG
These two ROCKSTARS are the greatest way to provide nutrients for a healthy microbiome.
Fruit and vegetables high in fiber gives certain bacteria the opportunity to grow! Beans and legumes are also a great way of adding extra fiber into your diet.
Examples:
Raspberries
Beans
Lentils
Green Peas
Bananas

FERMENTED FOODS
Fermentation is a process in which sugars are broken down by yeast or bacteria, thus creating fermented foods. These foods can benefit your health in various ways, including reducing inflammation, improving intestinal bacteria and reducing the symptoms of lactose intolerance.
Fermented foods can include yogurt (plain is best), sauerkraut, and soybean milk.

PREBIOTICS
Prebiotics are compounds in foods that promote the growth of beneficial bacteria and fungi. Some studies suggest that probiotics can reduce insulin, triglyceride, and cholesterol levels in individuals with obesity. Foods that contain prebiotics include asparagus, oats, and berries.

POLYPHENOLS
Now you may have never heard of this word, however Polyphenols are quite common in a variety of foods! This compound is a micronutrient that occurs naturally in plants. Polyphenols can reduce blood pressure, inflammation, cholesterol levels, and oxidative stress.
Foods which are FULL of this compound include cocoa, dark chocolate and red wine! Other foods that can also help are almonds, blueberries, onions, and green tea.

ADD SOME SPICE TO YOUR LIFE
Spices are a great way of flushing out the harmful bacteria which hides in your gut! Spices such as garlic, turmeric, ginger, and cinnamon are great additions to your meals. These spices will also promote the healthy bacteria!

We hope these tips help and improve your gut health. Making small and easy adjustments to your daily lifestyle and food choices can create a positive change in your gut and overall health.
Let us know in the comments if you use any other ways to boost your gut microbiomes!
Happy Crunching!
REFERENCES
https://www.healthline.com/nutrition/improve-gut-bacteria#TOC_TITLE_HDR_12
https://www.bluezones.com/2019/04/6-ways-to-improve-gut-health/
Got a question?
< Back
< Back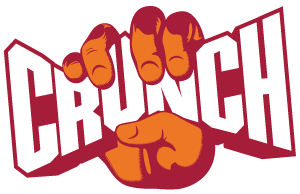 Crunch Fitness Virtual Assistant
I'd like some help reaching my Fitness goals!

I'm an existing member and would like some help!

I have some questions about becoming a Crunch member!