Your Crunch Team is ready to welcome you back!
We're doing all we can to ensure your safety, we promise a Fresh and Clean club filled with positivity over this first reopening phase, and we're hopeful (and slightly confident) that the limitations imposed on us will change  – it's all part of the journey! As of right now, all Crunch Victorian members are required to book online 24 hours in advance for a class. We've made it even easier for you to book a class by securing a gym session via our Crunch Australia Mobile App!

SIMPLY FOLLOW THE STEPS BELOW TO BOOK A WORKOUT VIA THE CRUNCH AUSTRALIA APP!
PLEASE NOTE: YOU CAN ONLY BOOK 24 HOURS IN ADVANCE FOR A CLASS
What's my login?
Your login is the email you used to enrol at Crunch. It is the email that appears on your Crunch Membership Agreement and the email you receive Crunch EDM communications from. It is also your Crunch Live login!
What's my password?
Your password was specified by you during your Crunch enrolment.  If you didn't specify a password when you enrolled, don't worry and just follow the "Forgot or don't have a password?" button.
How to book a session
Download the Crunch Australia app via the app store. Once you're inside the app, fill in your details (email & password) to login to your account. You'll then receive a message saying 'You're all set up!' Select the 'START NOW' button. You'll then be taken to your dashboard where you can book in your gym session! Select the 'Book Your Classes' button. Here, you'll be able to view available gym session slots & show you which ones are fully booked.

Scroll through the available time slots & choose your desired Group Fitness Class.
Once you find the time slot you'd like, hit the '+' button to sign up for this session.

You'll then receive a notification asking you to confirm this time slot. Hit 'Confirm'.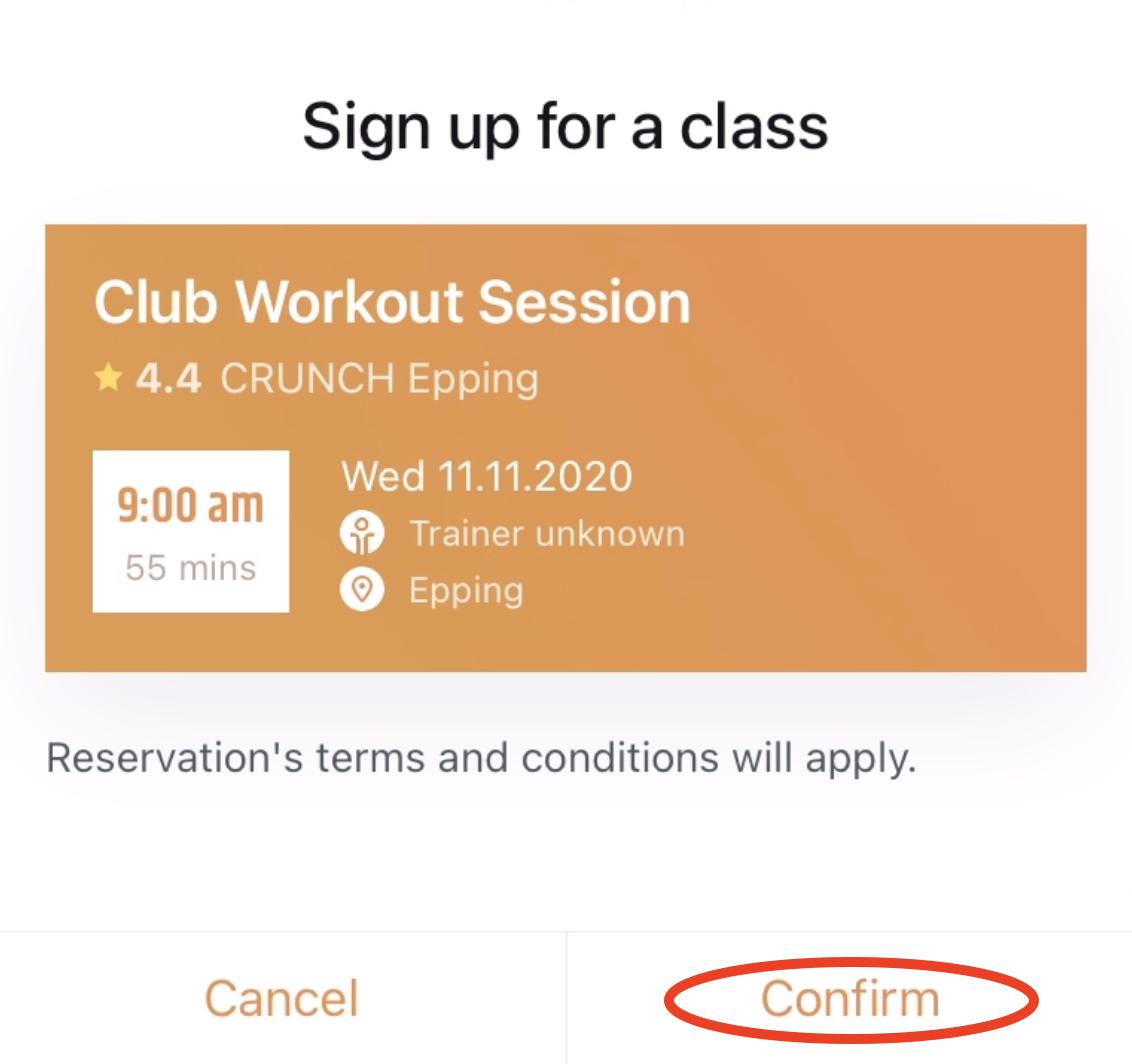 A message will appear saying 'Spot Reserved', hit the 'Ok, got it' button.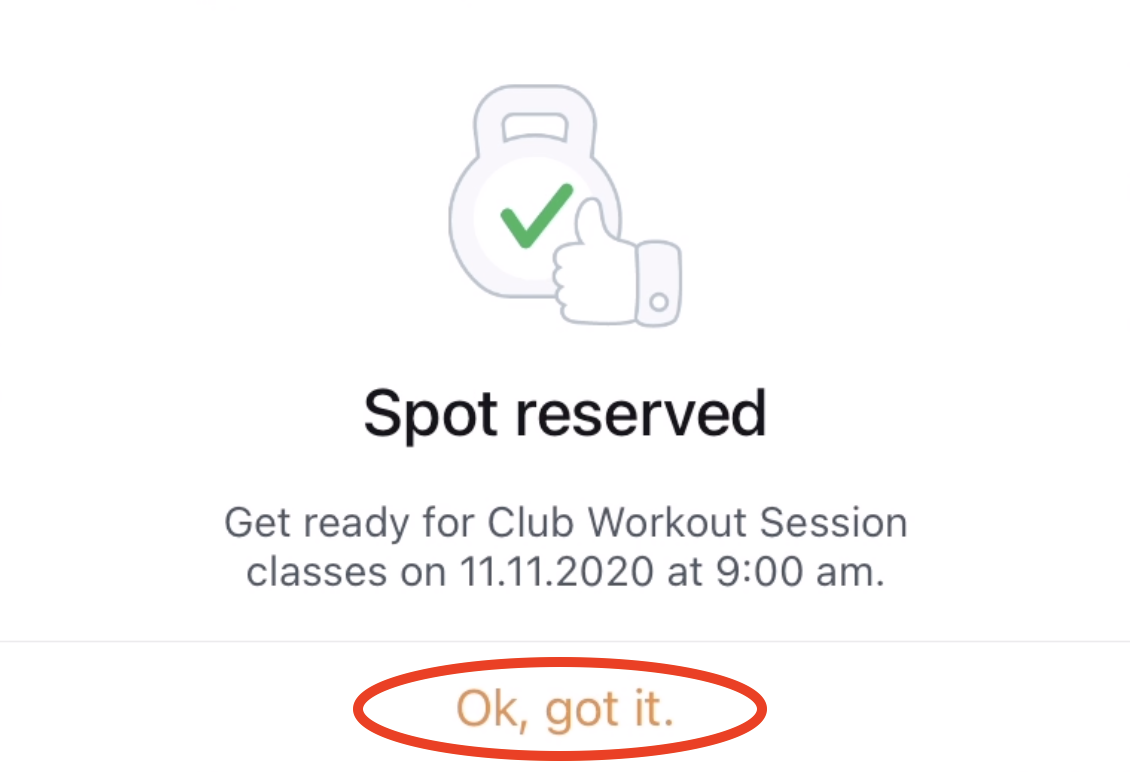 Setting up a Reminder: 
You'll then be asked if you'd like to set up a reminder before your gym session.
If you would like to do this, hit the '
OK
' button & choose your desired time e.g. 1 hour before.

You're all set!!! You can view your upcoming gym session on the 'Dashboard' tab of your app.

Cancelling a Gym Session: 
Make sure you are on the '
Dashboard
' tab. Here, you can view your upcoming gym sessions. Click on the session you'd like to cancel. You'll be taken to the
Class/ Session details page
. You'll see a '
x
' symbol next to your gym session. Hit the '
x
' symbol if you would like to cancel this session.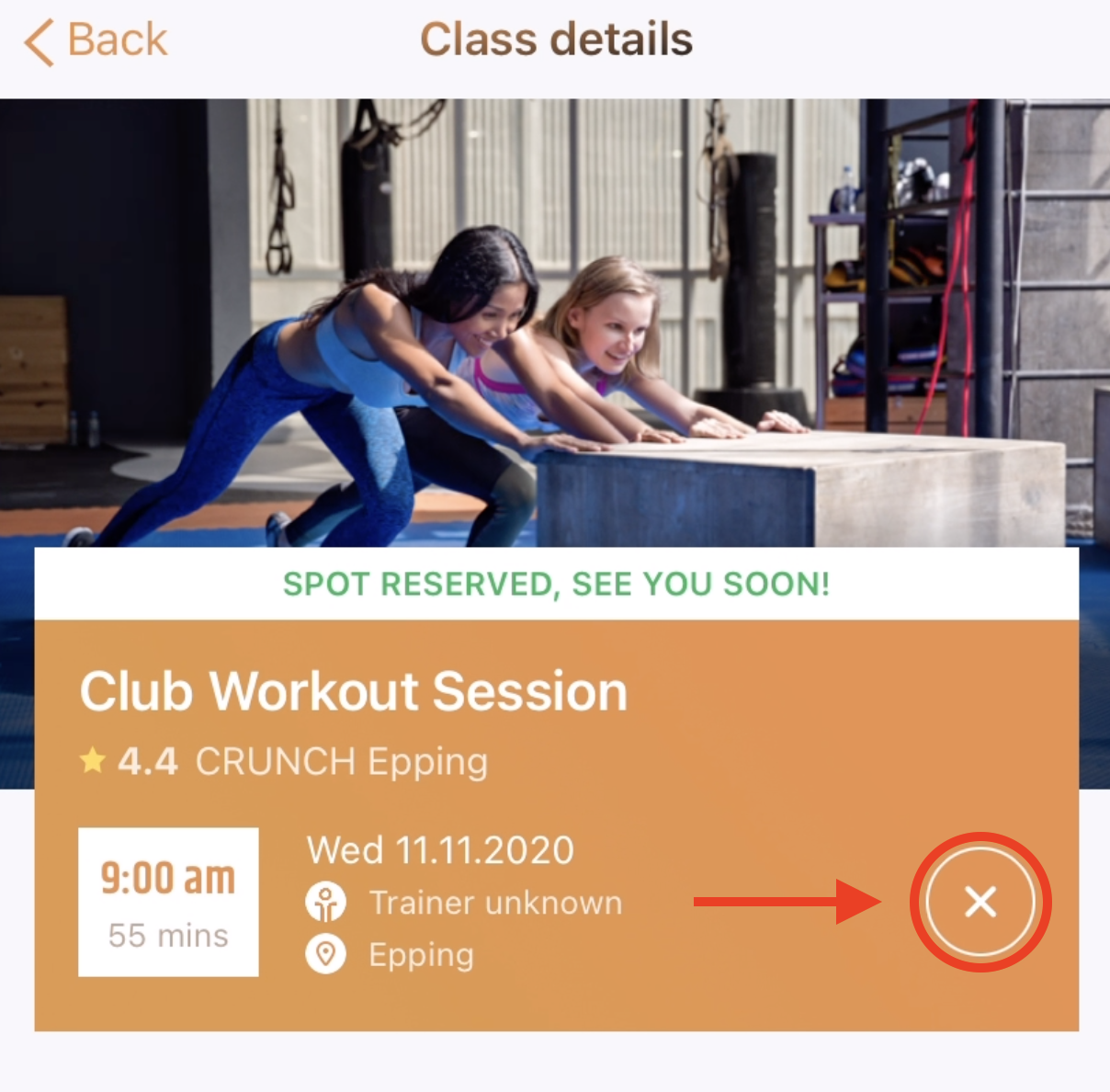 Then, select the 'Yes, cancel' button. You'll then receive a notification saying 'Reservation Canceled' to confirm this cancellation, hit 'OK'.


To be sure you've canceled this class, go back to your dashboard page. This session should have disappeared from your dashboard!
Booking via the Crunch member portal? Click here for instructions!
We know you are eager to come back and crush your fitness goals and need you to keep safe by being aware of the current government requirements.
Maximum of 20 people can book into each session
Classes run from Monday to Friday
Members can only attend 1 class per day
Members must have a booking to be able to scan through the turnstile at Crunch Reception
When a member checks in, it will automatically check them as "Attending" in that time slot
Bookings will be automatically deleted 5mins after the session start time, so Please arrive 5 minutes early – if you're over 5 minutes late to your booked time slot, your spot will be given to someone else.
Free passes, all guest privileges, showers, hydro-massage and drink fountains are unavailable in this phase.
Please make sure you are following all Victorian social safety guidelines – don't forget your mask and don't forget your towel!
Things are constantly changing – we will make sure we update you every step of the way so stay tuned by following us on social media and checking your emails or our website.
We're so excited to finally get Crunch open again, thanks for standing by Crunch at this time as we work hard to get things back up and running again - we can't do this without you!!
PLEASE BE KIND, CONSIDERATE AND MINDFUL TOWARDS OUR TEAM AND OTHERS AS WE NAVIGATE THIS NEW WAY TOGETHER.
We trust that everything will work out just fine!