Valentine's Day can be tough, especially when the loving embrace of another human feels like it'll never happen to you again. Not to worry though, because if you've got a gym, you've got a friend. Today we are going to run you through some of the best exercises that make you feel all warm and fuzzy inside!
SEATED CHEST FLY
First up, we have a seated chest fly. Now, this exercise is perfect for mimicking the warm embrace of a hug. If you close your eyes and imagine hard enough, you just may think you are actually hugging someone! And whilst you're actually not hugging anybody, at least you'll leave with a sick chest pump.
STAIRMASTER
You know that feeling when you see your significant other and your heart starts to beat faster? Yeah, well neither do we, so we suggest 20 mins of Level 8 on the Stairmaster. We promise it'll take your breath away.
DUMBBELL HAMMER CURL
If you ever want to be someone's Valentine or vice versa, this exercise is a MUST! The muscles used in the dumbbell hammer curl, are the exact same muscles used when giving flowers and choccies to your significant other! Don't be slacking, hit them hammers!
DEADLIFT
Now the deadlift is an essential exercise for those who are on the dating scene. Have you ever gone on a date, only to realise that this person isn't the one? The conversation dries up, and you're left scratching your head. This is where the deadlift will come in handy. You will need a strong back to carry this conversation just long enough to say goodbye and never see them again.
CHIN-UP
Love can be hard; we all know that. You get knocked down time and time again, and keeping a positive attitude when things look bleak is difficult. This is where Chin Up's are vital. 4 sets of 10 should do the trick.
Notable accessory lifts
Box jumps – for jumping to conclusions
Seated rows – for pulling yourself out of sticky situations
Treadmill – for sprinting out of relationships
WIN 10K CASH FOR A EURO TRIP
​WE at CRUNCH AUSTRALIA want to give YOU the chance to WIN $10,000* for a trip of a lifetime!
​
​Whether you want to tour the Colosseum in ITALY, the Eiffel Tower in FRANCE, or even party in GREECE – click here and see HOW TO WIN!
Want a FREE GYM SESSION!?
Hit the link below to receive your FREE GYM PASS to your nearest CRUNCH Gym!
👉🏻 CLICK HERE
Don't forget to follow us on our socials!
I = crunchfitnessau
T = crunchaustralia
Got a question?
< Back
< Back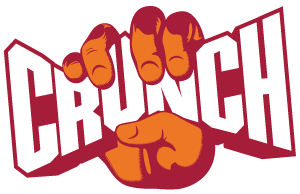 Crunch Fitness Virtual Assistant
I'd like some help reaching my Fitness goals!

I'm an existing member and would like some help!

I have some questions about becoming a Crunch member!