What is 360T?
360 Transformation is an 8-week set program that is delivered by an experienced Coach through small group training. The program focuses on strength, conditioning, mobility and recovery. A 360 Degrees approach to fitness!
You will learn new skills from a knowledgeable transformation Coach as you build strength, metabolic fitness, flexibility and confidence each week!
Our small groups led by these Coaches will have between 6-8 participants over this 8-week program. Every week, there will be three 60-minute sessions. Two of these sessions will be led by your Coach, and one session on your own or you can grab a buddy from your team.
Sessions with your coach will be all about learning new skills, then practicing these new movements.
The last session of every week will be just you or with a team mate, where you will practice these recently developed skills!
Who can join 360T?
ANYONE! 360T is designed to be an inclusive transformation program that allows anyone & everyone to join in!
Whether you are beginning your fitness journey, looking for a change in your regular training program, or looking to get shredded for summer, 360T accommodates to all these areas!
You can join a team by yourself, which is a great way to make new friends and feel part of a team, or you can organise a team with your gym buddies and get to work! Either way you are guaranteed to feel connected.
Why 360T?
Why not!! The benefits of 360T are not only physical! Whilst you will have an awesome physical transformation by the end of the 8-week program, you're going to be feeling and living a much healthier lifestyle.
Connecting with a group of likeminded individuals, whose goals may just be similar to yours, will allow you to be pushed physically and mentally during each session.
You'll finish the program with a greater understanding of how the body works, and what movements and exercises you need to be doing, along with perfect lifting technique from your coach! PLUS, you will now have a few extra gym buddies to say G'day to and train with!
360T gives you a well-rounded approach to training through an 8-week transformation program and gets you result! This science led program will move you through a series of key skills and techniques (such as deadlifts, weight squats and Thrusters) , mobility, diverse workouts, core work and breathwork.
One of the best parts of the program, is that you get to be part of a small team (6-8 people) led by a highly skilled coach who will give you guidance and tips along the way. When you are away from the gym, you can connect in with your Team and Coach via a unique Facebook group. Here you will get session prompts, tips, high fives and team shares and inspiration.
You will also have access to the Evolt scanning machine to track your results, at the beginning and the end.
Where is 360T & When does it start?
360T is at EVERY Crunch Club! All you need to do is call or visit the Club and speak with Reception to find out all you need to know! New transformations starting every month.
Be one of the first to take up this unique opportunity with the launch on September 5th! Get in FAST, see reception for details, and get your transformation moving!
360T Special Offers
Signing up to your first 360T Transformation can come at a discount code if you are already an existing Crunch member!
Summit members can receive 50% OFF their first transformation!
You can find more of our special offers here!
Got a question?
< Back
< Back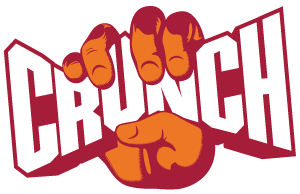 Crunch Fitness Virtual Assistant
I'd like some help reaching my Fitness goals!

I'm an existing member and would like some help!

I have some questions about becoming a Crunch member!