Low-carb snacks are considered a popular snack choice because of it's many health benefits including weight loss, HDL cholesterol & blood sugar control. Finding the right low-carb snacks is important to your health & eating plan. In this blog, we'll share with you our top 10 favourite low-carb snacks to help you when choosing what foods to eat to cure those cravings!
Homemade Trail Mix
The tip to making a low-carb trail mix is to combine a variety of nuts & seeds. You can also add other low carb ingredients like unsweetened coconut to switch up the flavours! Try mixing some walnuts, peans, almonds, and unsweetened coconut flakes for a tasty snack.

Tuna Salad Lettuce Wraps
Tuna is a great way to get your daily dose of Omega 3's. Being high in protein & rich in antioxidants, tuna is a great snack for those afternoon cravings. Rather than pairing it with bread, try using iceberg lettuce cups to wrap around your tuna. Light, tasty & prepared in seconds!
Stuffed Avocado
One of our favourites! Avocados provide a good source of monounsaturated fats and are loaded with fibre. Cut your avo in half, remove the pip and fill! For a low-carb option, we recommend stuffing your avo with diced tomatoes, onions, basil & drizzle with balsamic vinegar!

Kale Chips
The ultimate superfood! Packed with Vitamin K, Vitamin A & folate, Kale is a popular low-carb vegetable that contains less than 1 gram of carbs. For a healthy snack, grab a bunch of kale, wash thoroughly & rip the leaves into bite-sized pieces. Lay them onto a baking tray and lightly drizzle with olive oil & a pinch of salt. Bake at 180 degrees celsius for about 10 minutes & voila! You've got a crunchy snack, guilt-free!
Steamed Edamame
The powerhouse of proteins! Edamame beans are packed with nutrition, they're high in fibre & contain a great source of vitamin A and C. Boil these in water with a pinch of salt & enjoy either on their own or in a salad! Pair with some broccoli & lightly drizzle with olive oil for a low-carb, tasty snack.

Celery with Peanut Butter
Dipping celery sticks into peanut butter is a surprisingly delicious snack & the best part, it's low-carb! Some peanut butter brands contain added sugar, so we recommend sticking to a natural peanut butter consisting of only peanuts and minimal salt.
Guacamole with Baby Carrots
Try out this healthy, low-carb guacamole recipe! Smash one avocado, add in some diced red onion, a pinch of salt, and fresh lime juice. Now that you've got your guac prepared, enjoy with some chopped up baby carrots!

Roasted Pumpkin Seeds
A great snack filled with protein, potassium & magnesium. Toss your pumpkin seeds in some olive oil and spices of your choice – then roast! They're easy to store & are a delicious snack to have on the go! These are also great to add into your salads.
Cottage Cheese
Cottage cheese can be enjoyed with sweet or savoury foods! If you're feeling like fruit, dice up some kiwi fruit, pineapple & orange – yum! Feeling like something savoury but want to maintain low-carbs, combine some avocado slices with cherry tomatoes & place them on some low-carb crackers. A simply & easy snack to prepare.

PB & J Snacks
Create your own PB & J snacks by swapping out bread & jam with banana slices & strawberries! Tastes great, fast and easy to whip up & they make the perfect snack to cure those sweet tooth cravings.
IMPROVE YOUR HEALTH & FITNESS PLAN AT CRUNCH FITNESS
No matter where you are with your health & fitness plan, we can provide the advice you need to move forward to reach your goals. Our certified world-class personal trainers are here to help you and make you feel confident with your fitness journey.
Many of our Personal Trainers here at Crunch Fitness have qualifications in Nutrition & Weight management and can be of help regarding nutritional advice. Head over to the crunch Personal Training Page to get into contact with one of our PTs  today!
Got a question?
< Back
< Back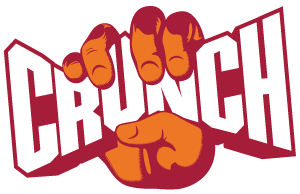 Crunch Fitness Virtual Assistant
I'd like some help reaching my Fitness goals!

I'm an existing member and would like some help!

I have some questions about becoming a Crunch member!