It's March. We are already into the third month of the year, and Summer is over. The #NewYearsResolution motivation is slowly fading, and for some, finding the energy to hit the gym is getting harder and harder each day. You could be lacking drive due to a number of things, so we've outlined some sure-fire ways to get back into the groove of things!
Training Partner
Having someone to train with is half the fun! Being held accountable, whilst also being able to have a chat in between sets is great, just don't forget to work out! A partner can challenge you and push you to places during training you wouldn't usually go when training alone. Plus, they double as a spotter!
Variety
Change it up. Even the most motivated people would get bored doing the same exercises each and every day. Instead of doing free weights, try a strength & conditioning class, or instead of running on the treadmill, try a HIIT workout! Whatever it may be, give something you've never done before a go!  You just might love it!
Music
If you don't like being disturbed during a session, having a fire playlist is essential. Sometimes even music can become repetitive, listening to the same 3 songs for an hour! That's why you need to constantly be updating your playlist and listening to fresh beats. For example, 'Soundcloud' mixtapes can cut out the hassle of finding songs, with a 1-hour mixtape giving you plenty of new songs to listen to! Trust us, once you find the perfect mix, you'll swear by it!
Treat Yo'self
Hit the gym 5 times a week? Get a reward at the end of it! Life is about balance, and working hard consistently allows you to enjoy yourself every once in a while. Enjoying yourself doesn't necessarily mean eating three burgers and a whole batch of brownies, it could be that you get to splurge on those shoes you want, or get to go on a day trip adventure with your friends. Whichever way you choose to treat yo'self, make sure you're having FUN!
Recovery
There is absolutely no use of forcing yourself to go to the gym if you're feeling tired, both mentally and physically, and your body is aching. You need to allow your body and mind to recover from exercise. Without this, you will see no improvements. Rest days are essential, watch Netflix, kick the feet up, and switch off for a bit. Mental fatigue is a serious issue, and not treated carefully, can linger around for longer than you want!
Track Progress
Maintaining and measuring your progress in the gym can be one of the most motivating factors. Seeing your physical progress, whilst improving the mental side of your training can be so rewarding. Looking back on how far you may have come, or tracking your Personal Bests is a great way to strive for better results. Keep it up!
We hope these help! Keep training hard and recovering thoroughly, the last thing you want is an injury!
WIN A TECH PACK – VALUED OVER $6000
​WE at CRUNCH AUSTRALIA want to give YOU the chance to WIN an awesome tech pack – valued at over $6000! PLUS, we are giving away over $1600 on our social!
​
​Our Tech Pack includes an LG 65" Oled TV, OCULUS Quest VR Headset, Apple Watch 45MM GPS, LG Sound Bar, Oura Ring, & Microsoft Surface PRO8. – click here and see HOW TO WIN!
Want a FREE 3 DAY GYM SESSION!?
Hit the link below to receive your FREE GYM PASS to your nearest CRUNCH Gym!
👉🏻 CLICK HERE
Don't forget to follow us on our socials!
I = crunchfitnessau
T = crunchaustralia
Got a question?
< Back
< Back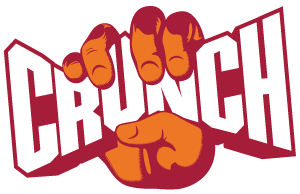 Crunch Fitness Virtual Assistant
I'd like some help reaching my Fitness goals!

I'm an existing member and would like some help!

I have some questions about becoming a Crunch member!